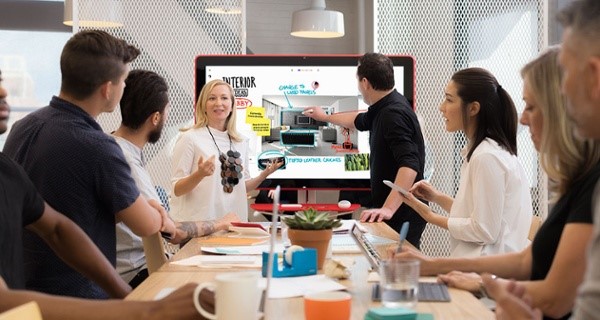 There is more than mere mileage separating New York and Los Angeles. In this age of global commerce and a 24 hour business cycle, it is still difficult to collaborate with colleagues 3 hours behind or ahead of you on the clock. The time-zone chasm can drive a wedge between offices and delay valuable time on creative projects- frustrating clients, costing dollars, and contributing to product/design issues and mistakes.
Video-conferencing and digital file sharing has helped with this issue greatly. Cloud-based enterprise platforms such as G Suite can help companies effectively share throughout the day and night- allowing team members to collaborate on projects while traveling and at home. Video-conferencing has provided the personal aspect so often lacking in our increasingly online-environment.
What if there was a way to marry both the personal connectivity of the video-conference, with project collaboration - in real time? What if our dry-erase board brainstorming and client revision notes could live on after the meeting- and continue throughout the project cycle? What if we could provide a hub for offices across the country to share, develop and produce- in a virtual project development space, 24 hours a day?
Google Jamboard. Redefine the collaboration process. Reignite your team engagement. Reimagine your business productivity.