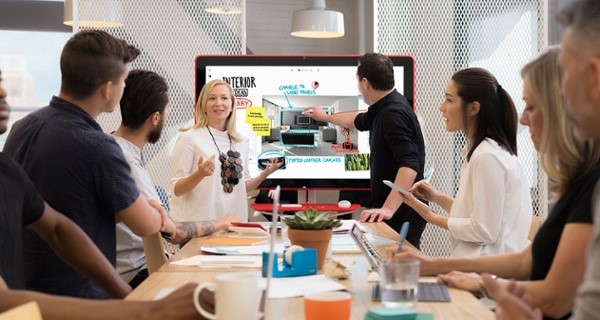 Meetings are supposed to be places where people come together, eager to share their inspiration and progress on company goals and projects. Instead, managers and workers alike tend to dread going to meetings. They are considered irritating time sinks that hinder productivity. Imagine a different world where everyone in the company wants to go to meetings because they are empowering and collaborative "brain-sharing" sessions. Technology can make that happen and 2018 is the year it will happen, for many companies at least.

One recent survey revealed that there is a generation gap in how people feel about meetings, with 55 percent of millennials calling them "productive," while only 45 percent of older generations agree. The difference may be the type of technology each of these generations is more familiar with, because millennials tend to get on board early with advanced technology.
The following five emerging trends in conference room technology are turning those objections around to make sure every meeting delivers real business value.

1. Collaboration in the Cloud
Not getting everyone in the room at the same time can lead to repetitious meeting recaps, project delays and meetings that go nowhere because the key players aren't involved. Now conferences in the cloud allow workers and managers to join in from different offices or even different time zones. Among the 2018 top trends in meeting rooms is wireless connectivity. The transition to complete digital conferencing technology solutions eliminates the need for IT to attend meetings in case of connection failures, and it boosts the overall productivity of meetings.
2. Streamlined Document Integration
In meetings, people used to say, "I'll send you a…" It usually means that after the meeting, there will be a flurry of documents shared through email or other communications channels. Servers were jammed with duplicate documents and no one knows for sure if they have the latest version. Now conference technology can easily integrate documents so everyone is literally on the same page. By integrating productivity tools including documents and calendars into a single presentation platform, workers come out of meetings with a unified sense of direction and purpose.

3. Interactive Whiteboards
Meeting whiteboards have always been problematic. The markers are messy and dry out easily. They get stained with permanent ghost images. The instructions "Do Not Erase!" are rarely followed. Information can't be shared outside the room. All those problems are in the past. Efficient presenters can now rely on digital whiteboards with interactive flat panel displays. You can create endless digital images that can be saved to a hard drive, share your thoughts online, and start with a clean slate when it's time to move on.

4. Made for Mobile
The arrival of the app ecosphere made it possible to work from anywhere. Mobile offices could do everything except host meetings. Now they can. The same collaboration tools, presentation software and interactive whiteboards have come to a mobile device near you. Mobile apps now allow meeting participants to not only view the presentation, but contribute with their own ideas and visuals remotely.

5. All of the Above
The latest advances in meeting room technology demonstrate how all these trends are converging. Google Jamboard is one great example of that. For corporate AV system integrators, Google's futuristic answer to meeting technology is both a time and life saver. Work teams don't have to cobble together for collaborations using a host of confusing platforms, each one requiring downloads and installations. Google Jamboard starts with a 55-inch 4K display with best-in-class touch response time. The accompanying stylus and eraser work without pairing or batteries. Inside, the cloud-based platform integrates seamlessly with Gmail, Google Drive and the rest of the office productivity apps in G Suite. No matter where your workers are, in the room or on their mobile devices, they can share ideas visually, exchange documents and set deadlines for action items.
Google Jamboard. Redefine the collaboration process. Reignite your team engagement. Reimagine your business productivity.