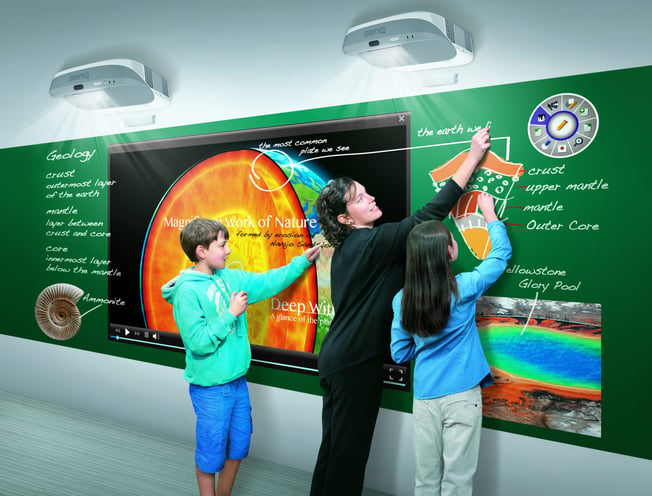 Your Budget-Friendly Education Solution: BenQ Interactive Projectors
BenQ Corporation
We know that you know the value of providing an above-average education for your students. Everything they're learning from you will propel them into better futures and more successful careers.

But you have to face the harsh reality of budget cuts and restraints, and that can hinder your teaching process.

As hard as you work to deliver an exciting and engaging education for your students, you need the right technology to aid your lessons and make them the best that they can be. So BenQ has provided a thoughtful balance of display performance and interactive capability with their range of competitively priced interactive projectors.

These projectors are available at about one-third of the cost of an interactive flat panel, so you can stay within your shrinking budget while still reaping all the benefits of these projectors' outstanding features:
Pointwrite and touch write capability
Up to four students can interact with a projected surface at one time. They will absolutely love being a part of the lesson by circling and underlining text, writing on top of images such as maps, or even using it as a digital whiteboard.
Colorific image quality
BenQ is the only company to offer Colorific technology, which means accurate, crisp and long-lasting images that won't fail. Colors are portrayed realistically, exactly as they're meant to be viewed.
WUXGA resolution
Simply put, it delivers some of the highest aspect ratios and screen resolutions out there. Its capabilities allow for unique designs that are suited to large-screen applications.
Ultra short throw performance
This technology allows you to project large images in the tight space of your classroom. You won't have to worry about shadows being cast onto the image or a bright light shining in your face while you teach.
LAN control
Maintaining these projectors is a breeze with centralized monitoring and maintenance.
SmartEco technology
Reduce energy consumption while keeping your school on-budget; lamp power dynamically adjusts its power based on usage.

Learn more about how a typical school would use the BenQ MW883UST to help students succeed by clicking here.

It's time for you to deliver a truly interactive educational experience. It's time to choose the educational experts to achieve your budget-friendly interactive classroom.