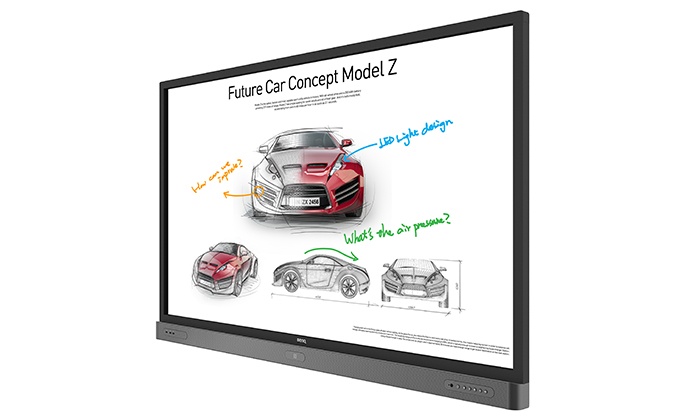 Why Your Meeting Rooms Need BenQ Interactive Flat Panels
BenQ Corporation
Integrating technology into a meeting room can present a wide range of challenges. And there are a lot of different attributes you have to take into consideration when you're decking out the space.

Luckily, BenQ understands these conundrums. When it comes to interactive flat panels, BenQ's RP series is the most qualified line out there.
Hardware that Delivers
Having the right hardware is how you lay the groundwork for any successful meeting room, and BenQ has thought of everything with the RP750K.

Cutting-edge ports like USB 2.0 and 3.0 establish maximum compatibility and ensure that your meeting space will remain up-to-date.

Legacy ports like VGA (Video Graphics Array) make sure you'll be prepared for any office.

A pen tray provides a place for writing instruments so you'll never misplace them and waste valuable time on a scavenger hunt.

Rounded edges thoughtfully prevent you from getting poked during those late-night brainstorming sessions when your fatigue may get the best of you.

Two 16-watt speakers help you keep your audience engaged by providing an exceptional audio-visual experience.
Technology that Lends Itself to Collaboration
Today, it isn't enough to have a meeting room that's only equipped for presentations. You have to think about creating a "collaboration station" where an entire team can contribute, because each person's individual expertise needs to be taken into account for maximum leverage.

Take teamwork to the next level with the RP750K's synergetic features.

A fully-functioning digital whiteboard allows you online access, gives you the capability to save images to a hard drive and provides you with effortless and instantaneous erasing abilities.

20-touch point technology allows up to 20 people to write on the panel's surface at one time.

Screen recording tools give you the potential to document exactly what goes on during a meeting for later review. Choose between three different recording options: Full Screen, Area and Window.

Handwriting recognition identifies your natural handwriting at the pace you write, including punctuation and spaces, translating even the messiest of scrawls into legible text that an entire team can easily decipher.

The InstaQShare Wireless Solution brings you flawless video-streaming performance and can mirror content pulled up on mobile devices.
Engineering that Keeps Your Staff's Health in Mind
Longer workdays lead to longer weeks, and employees are at the office more than ever. So it's imperative that your technology keeps employees' health and comfort levels in mind.

The BenQ RP750K excels here with a Smart Eye Solution.

Flicker-free technology maintains consistent and even backlighting that reduces eye fatigue caused by extended exposure to a screen.

Blue light reduction cuts down on eyestrain, especially in darker environments or at night.

Anti-glare glass is not only beneficial to the health of your eyes, but also provides a better all-around visual experience with crystal-clear images under almost any lighting situation.

To repel germs and keep coughing and sneezing in the office to a minimum, BenQ has also provided bacteria-resistant coating that will ensure employees can stay engaged and at their peak performances — even during flu season.

Meeting rooms should bring people together and provide an environment that lends to innovation, brilliant ideas and forward motion for your business. The experts know your team deserves nothing but the best. Take meetings to the next level and choose BenQ.

At Infocomm 2017, you can learn more about achieving an integrated meeting room environment and view the BenQ RP750K along with other display products. Attending the show? Schedule a meeting with our team for a personalized appointment.