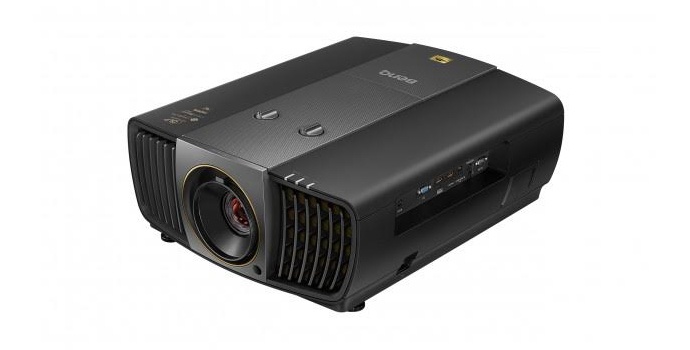 Why You Need the HT9050 in Your Home Cinema
BenQ Corporation
You've made the first step toward achieving a true Hollywood experience with your home cinema — deciding to go for it. You're also now aware that you want DCI-P3 color in order to view movies exactly as their directors originally intended them to be seen.

The overarching question is how to reconcile the quality of your projector with your budget. Is it possible to attain top-quality DCI-P3 color performance and the myriad of other innovative features you need for an exceptional viewing experience at an affordable price?
If you choose BenQ, the answer is a resounding "yes."

More specifically, check out BenQ's HT9050 home cinema projector. It offers everything you need to create a professional-grade theater in your own home and facilitates each step of the process along the way.
IMAGE PERFORMANCE
Only a handful of home cinema projectors can claim DCI-P3 color technology. A few brag 4K resolution. Some are specifically engineered for truly high brightness, ensuring crisp visibility despite the lighting situation.

The HT9050 packs the biggest punch of all — it comes with the entire trio, guaranteeing a premium image unmatched by its competitors.

If what you're searching for is an unparalleled viewing experience with sharp, long-lasting pictures that deliver a consistent picture every time you fire up the projector, shop no further than BenQ.
RELIABILITY
When you're trying to watch a movie with your family, the last thing you want to deal with is finicky technology. So BenQ has made sure to deliver seamless entertainment with the HT9050's 20,000 hours of maintenance-free life, delivered by Philips ColorSpark™ lampless LED technology.

Not to mention, with the projector's instant on/off response, you won't have to wait around for 15 minutes for it to fire up or waste precious time after the film making sure it powers down correctly.

Furthermore, BenQ has kept total cost of ownership (or TCO) in mind — there's no need to change out a bulb. In short, both your patience and your wallet will remain at full capacity.
INSTALLATION FLEXIBILITY
It's easy to get wrapped up in the visual logistics and forget about what a challenge it can be to install a projector. Unless you can position it correctly, your professional-grade home cinema could remain nothing more than a dream.

Individual theater rooms can differ greatly due to a number of factors, including architectural complications and varied ambient lighting. Luckily, BenQ thought ahead and engineered the HT9050 specifically to overcome almost any hurdle.

Wondering what it comes equipped with? Keep reading:
Synchronized zoom and focus adjusts automatically to eliminate any blur with on-screen movements.
Anamorphic lens compatibility allows the potential of converting images to a professional theater aspect ratio.
Front-facing ventilation expands your mounting options.
Horizontal and vertical lens shift technology lends to a range of possible locations within the room.
BenQ knows you want the best in home cinema entertainment, and we've delivered. Because we know you're worth it.

Opt for the HT9050 — the projector that will make you feel like you're in the director's seat.

Learn more about this phenomenal projector here!

What to see the future of home cinema technology now?

Experience the latest in home cinema technology, our HT8050 and HT9050 will be on display inside SnapAV's booth, #3415, at CEDIA San Diego, Sept 7th to the 9th.