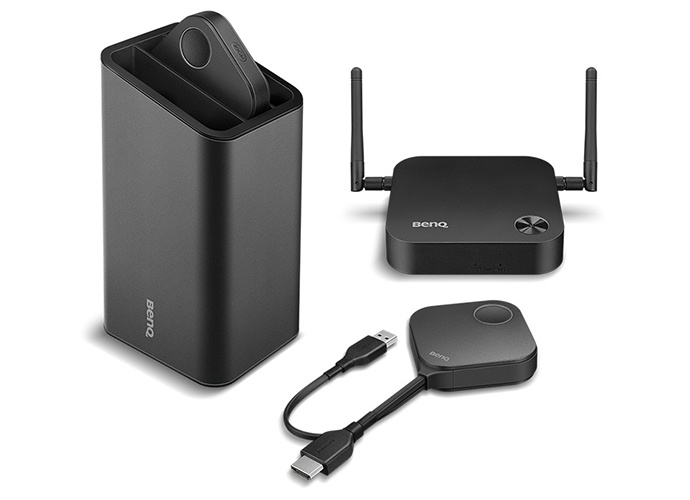 Why the BenQ WDC10 is the Superior Solution to a Collaborative Meeting Room Environment
BenQ Corporation
Let's recap: we've brought up the question of whether you're getting the most collaboration from your team during conference meetings. And we've discussed the cultural and technical considerations that are the driving forces behind fostering collaboration within your organization.

It's time for the final step. You're ready to take advantage of the comprehensive strengths of individual team members in order to get the most out of your meetings. By partnering with the experts and launching the BenQ WDC10, you can start the journey toward a successfully collaborative conference room.

A truly innovative device, the WDC10 can be used by up to 16 people at once. It facilitates seamless collaboration across large groups of people via a cohesive network of plug-and-play buttons, as well as through a central transmitter that connects to your display technology.

The BenQ WDC10's impressively unbeatable features include:
Plug-and-Play Functionality
In contrast to its competitors, the WDC10 requires neither the installation nor the execution of software, making it wholly unintimidating to begin using and simple to add to your daily office routine. Additionally, it doesn't require WiFi infrastructure or additional training to start using, so you can start sharing instantaneously.
Device Agnostic
No matter whom you have presenting in your meeting room and what technology they bring with them, the WDC10 can handle it, because it's intelligently engineered to be compatible with any device. Whether you need to plug in a Mac, Chromebook, Blu-ray player, Apple TV or PC laptop (and even gaming systems like PS4 and Xbox), the WDC10 can do it all.
Ease of Use
Don't ruin the ambiance of your conference room and compromise the safety of its users with complicated wire systems and clunky appliances. You need a device that will fit in with your existing decor. The WDC10's sleek lines give it a futuristic look that will impress even the most technologically savvy individuals.

The system also includes an elegantly-constructed cradle in which you can store transmitter buttons when they aren't being used. From seriously-minded, high-powered law firms to modern, trendy advertising agencies, the WDC10 is designed to complete your conference room.

You not only want, but need, the best in collaboration when it comes to your meetings. The solution to deliver results is right here at BenQ. It consistently delivers nothing short of excellence and charges past the competition.

It's the WDC10.

Don't miss out on a chance to drastically improve your meeting room, foster collaboration and propel your company to new heights.