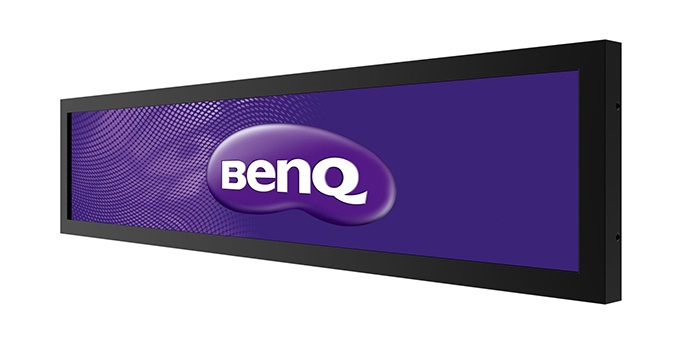 Why BenQ Bar-Type Signage Delivers the Most Engaging Retail Experience
BenQ Corporation
The retail landscape is ever-changing, and we know the importance of delivering a unique experience.

We're also aware of the multi-sensory needs of this experience. For maximum sell-ability, customers need to become familiar with a product as if they already own it. It's time to get the job done right. You need to collaborate with a tried-and-true leader in display technology — the best in the business.

Work with a company that guarantees results every time. Rely on experts who deliver engaging products that will catch your customers' eyes with unfailing efficacy.

BenQ is here to offer you exactly that.
Visual Uniqueness
The bar-type signage that BenQ offers utilizes a drastically slim aspect ratio that sets it apart, and it operates in either landscape or portrait mode (horizontally or vertically) for your convenience.
Impressive image quality
Not only does BenQ's bar-type signage employ a unique look, but it also has 24/7 operational capabilities, a 50,000-hour life expectancy and incomparably high brightness at 800 nits. Essentially, this makes it exceptional within ambient lighting environments, so customers can view digital images and text no matter how bright it is outside.

A 1920 x 545 resolution guarantees high definition and maximum detail for a smooth image that won't appear pixilated. And at a 4000:1 contrast ratio, picture quality is top-notch.
Easy and flexible content management
You need to impress your customers while keeping in mind your own needs for usability and adaptability to multiple situations. So BenQ's bar-type BH280 and BH380 products come with X-sign content manager to simplify your job.

The ready-made templates that X-sign software comes with are easily customizable and can be deployed quickly, with little hassle. You can change content quickly to keep up with the modern fashion landscape and ensure your business endeavors run more smoothly than ever.
Reliability and Installation Flexibility
Here's the bottom line — the fashion world is hectic and demanding, and you need a carefully engineered product that will help you stay on top of it all. With the reliability and easy installation that the BenQ BH280 and BH380 deliver, you can do just that.

Obtain secure installation with an F32 fixed wall mount. Enjoy the convenience of rotational axis capabilities that will allow you to tilt and swivel your display technology.

With the ever-growing demands of the retail landscape, don't settle for less. Take the innovative path and go with display technology that will keep you ahead of your competitors. Choose BenQ.

At Infocomm 2017 in Orlando, Florida from June 14 to 16, you can personally experience the brilliance of Bar Type Digital Signage at booth #2820. Click here to receive a complimentary ticket and book your private demonstration.