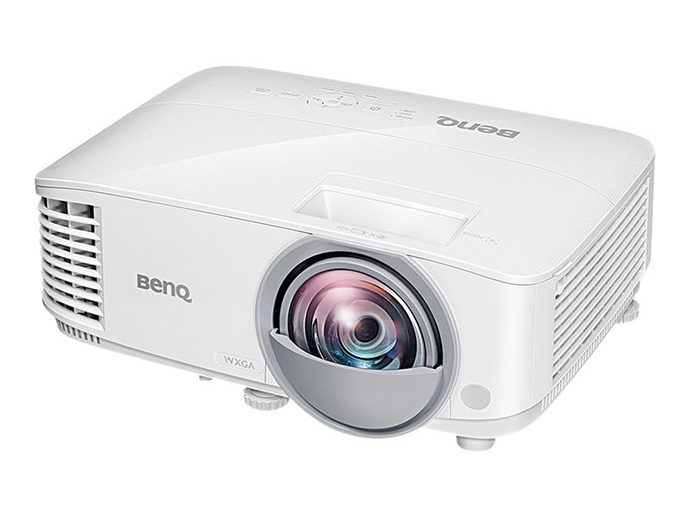 The MW826ST is Your Short-Throw Solution for K-12 Classrooms
BenQ Corporation
From teaching kindergarten children to educating high school seniors, running a classroom these days can often feel chaotic and tumultuous. You probably feel like you need all the help you can get.

And that includes technology. You want the teaching process to be as simple and seamless as possible, so you

Some challenges you may encounter include space restrictions, obstructive shadows crossing your screen when you stand too close to the board and dull, lackluster projections.

Sound familiar?

BenQ's MW826ST is the answer to your problems.
Installation Flexibility
The projector sports short-throw performance ratio of .49 means that the projector can be mounted a mere 39 inches away from the board (that's only 100 centimeters). You won't have to worry about architectural challenges like columns or the placement of overhead lighting, because you'll be able to mount the MW826ST virtually anywhere that you need to.
Shadow Elimination
By mounting the projector close to the screen, you'll also overcome the annoyance of shadows blocking out the image you're projecting. This will save you the hassle of needing to move from side to side to evade the projected image as you teach and, in turn, make your lessons more engaging for your students.
High Brightness
You're also guaranteed a bright and long-lasting image with 3,400 ANSI lumens of brightness, which will shine through the inevitable ambient lighting conditions you have to deal with. Anything projected by the MW826ST will be incredibly visible even if sunlight from large windows, bright fluorescent lighting or phone screens threaten to compete with your lessons.

Through a combination of ensuring installation flexibility, eliminating distractions and putting out an unmatched level of brightness, the MW826ST is your answer to successfully running a K-12 classroom.

Visit Booth #212 at the Texas Computing Education Association (TCEA) anytime from February 6 to 9 in Austin, Texas to see the MW826ST in person, along with the entire educational technology lineup.

Book an appointment to check out this outstanding projector and others at TCEA and we'll give you a $10 Starbucks gift card




You won't be disappointed — we guarantee it. Don't miss out on the latest in educational projectors!