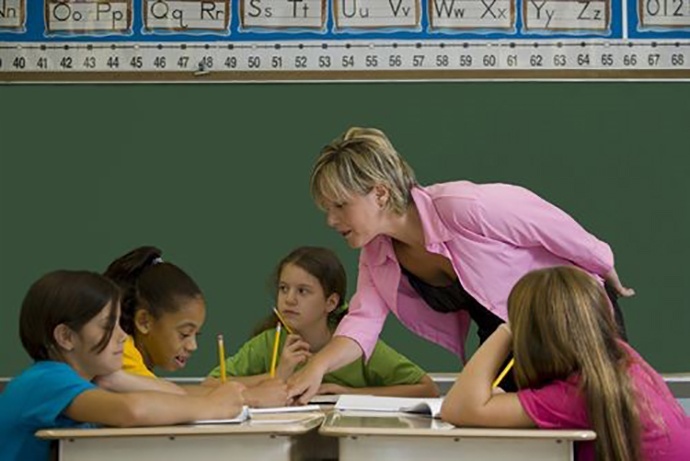 Why the MW571 Needs to be Your On-The-Go Classroom Projector
BenQ Corporation
As a teacher, you have a hectic career. You have to edit and mark papers and come up with a variety of lessons for your students, all while keeping them engaged and interested in the curriculum at hand.

It's enough to frazzle even the most experienced of teaching veterans.

When you throw in the necessity of moving between rooms (and possibly buildings), as well as teaching a variety of classes, you end up with a severe challenge on your hands. As schools face rising attendance numbers, the need to educate an increasing number of students weighs on instructors. Most professors no longer have the luxury of a dedicated classroom they can call their own.

You're constantly moving around in order to teach, and you may find yourself with an empty auditorium for single or multiple periods throughout any given day.

Educating students under these demanding conditions can take its toll, and in order to make sure you're up to the challenge, you need the right equipment for the job.

We're going to explore why the MW571 is the right projector for your demanding career as a teacher on the go.
Portability
BenQ's MW571 is a mere 4.19 pounds, so you won't experience a major workout each time you have to transport it from classroom to classroom.

It also comes equipped with a fantastically diverse interface that includes HDMI and USB outputs, so no matter what in-room equipment you're faced with, you'll be able to connect to it with no problem.

And we haven't even gotten to the projector's 3,200 ANSI lumens of brightness. Your students will be able to view your presentation with incredible clarity even in rooms that have ambient lighting issues. You'll have the ability to deliver an engaging and interesting lesson in any room. Wide windows, fluorescent lighting and bright laptop screens will have nothing on you.

The MW571's 10-watt speakers will also deliver a lesson that everyone can hear. With a rich sound that guarantees consistency and balance, you'll be able to give your students a clear, understandable and audible lesson that will help them learn more effectively.
In-Built Teaching Templates
Without a singular classroom that's dedicated to you and your lessons, you'll need all the functionality you can get. With the inbuilt teaching techniques that the MW571 offers, you'll be able to get the job done without any problems.

Three different line pattern templates are included with your purchase: Letter Formation, Worksheet and Coordinate Chart. They allow you the ease of drawing on the whiteboard (or blackboard) without the need to sketch out lines or charts beforehand. So your time will not only be utilized better, but you'll also be able to clearly and effectively present organized lessons to your students.

Essentially, you'll be able to turn a blank whiteboard into a teaching tool in no time, which will ensure that your students stay engaged and interested in what you're teaching them.

In an era of short attention spans and increased classroom mobility, you need to be able to rise to the occasion to keep up with your students. Let BenQ help you out, and choose the MW571 for your on-the-go teaching.

Visit Booth #212 at the Texas Computing Education Association (TCEA) anytime from February 6 to 9 in Austin, Texas to see the MW571 in person, along with its entire educational technology lineup.

Book an appointment to check out this outstanding projector and others at TCEA and we'll give you a $10 Starbucks gift card




You won't be disappointed — we guarantee it. Don't miss out on the latest in educational projectors!