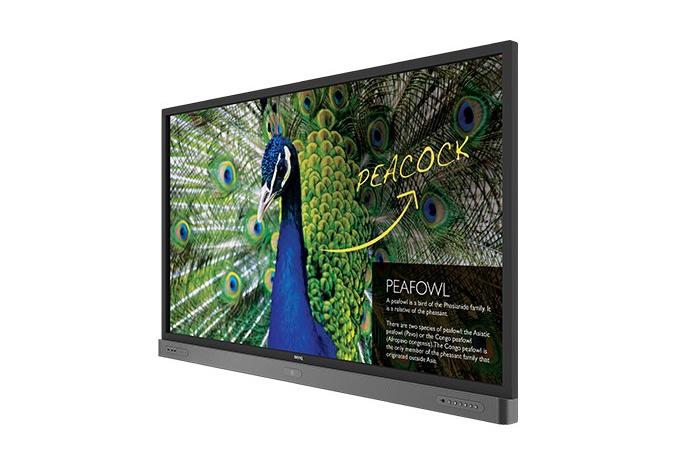 Why the BenQ RP750K is the Feature-Rich Interactive Flat Panel You Need in Your Classroom
BenQ Corporation
Last week, we explored the very present need to employ feature-rich interactive technology in your classroom. We've also discussed many of the features that define high-quality technology.

It's time for the next step. We promised to tell you about the perfect interactive flat panel that you and your classroom need, and we're going to deliver.

BenQ's RP750K delivers all of the features you need if you want to run a successful educational environment.

Here's why:
It has 4K UHD resolution.
With so many potential distractions (smartphones and laptops are only the beginning), it's important that your classroom technology puts forth crisp, clear and bright images that will supplement your lessons. You also want any displayed text to be easy to read, so that even students at the back of the room won't have to squint to read your lessons.

Bragging a resolution of 3840 x 2160, the RP750K will deliver an exceptionally unrivaled image quality that will keep your students' eyes focused on the lesson on your screen and off of whatever is on theirs.
It takes your health into consideration.
Flu season is upon us, and this year it's in full force. When students have to miss days of class due to sicknesses, it causes them to fall behind their classmates and hinders their entire learning process.

Prevent a classroom epidemic before it even starts with BenQ's unique line of interactive flat panels (including the RP750K), which come equipped with a noteworthy combination of ergonomic and high-tech features tailored to keep your classroom healthy and running smoothly.

Bacteria-resistant glass will help prevent the spread of germs and keep both you and your students sneeze-free. Plus, rounded edges thoughtfully reduce the risk of classroom injury.

The RP750K and its colleagues in the RP lineup also come with a variety of features designed to protect your eyes from blue light exposure, which can be extremely detrimental to your visual health. Anti-glare glass, flicker-free technology and advanced blue light reduction work together in tandem to make sure your eyes stay happy and healthy, no matter how much time you or your students spend in front of the screen.
Its software inspires learning.
Encouraging participation in lessons and cooperation among students are two of the most important factors when you're aiming for a collaborative, interactive and engaging environment. The more your classroom technology is able to help out with this, the easier the entire process will be.

The RP750K's EZWrite 4.1 technology instantly turns your interactive flat panel into a full-sized whiteboard with one tap. Students will get a kick out of drawing, writing, brainstorming with their peers, taking notes or demonstrating ideas during interactive lessons.

You can also turn the RP750K into a digital whiteboard with displayed text or images (such as maps and diagrams), so that you and your students can annotate or write over any on-screen part of your lessons.

Plus, innovative handwriting recognition technology will facilitate writing on the board for both you and your students. It instantly translates written letters and numbers into typed text that is neat and easy to read for a better viewing (and learning) experience.
It keeps students "in touch."
Sometimes, especially for more timid and shy students, coming up to the front of a large classroom filled with peers can be daunting. In addition, having students come up to the board one by one is often time-consuming and leaves the rest of the class bored.

With the Multi-TouchPoint technology employed by the RP750K, the screen allows up to 20 points of touch. It's the perfect solution to hosting group activities and classroom games to motivate your students to communicate and collaborate with one another.
Now that you know why the RP750K is the perfect technological addition to your classroom, it's time to visit the experts and see the interactive RP series for yourself!
Visit Booth #212 at the Texas Computing Education Association (TCEA) any time from February 6 to 9 in Austin, Texas to learn more about BenQ's exceptional and feature-rich interactive flat panels (IFPs) and how they'll benefit your classroom.

Book an appointment to check out BenQ's outstanding product range at TCEA, and we'll give you a $10 Starbucks gift card (because caffeine is another secret to success).


Why wait any longer? Make an appointment today, and come out to see BenQ's exceptional educational technology lineup for yourself!