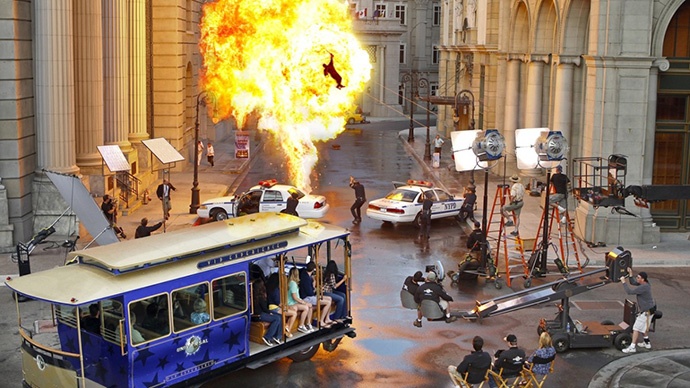 What Factors Contribute to the True Hollywood Experience in Your Home?
BenQ Corporation
Making the decision to build a home cinema for you and your family is a commitment. You're dedicating yourself to a complex and multifaceted task that requires considering multiple angles. And we know you want to deliver the best and most authentic Hollywood experience possible in your home.
So what angles do you need to be taking into consideration?
We can think of multiple factors. Resolution, contrast ratio, audio and seating — just to name a few — all contribute to the deliverance of an exceptional home theater.

But one factor rises above these in importance. Color performance is vital to achieving a truly authentic home cinema experience.

Selecting the right projector for your home isn't a black and white issue (pun intended!). Making sure you understand how color performance is measured is a crucial piece of the much bigger puzzle of your home cinema and will facilitate the selection process.
We'll help you out.
Start by conducting some research on chromaticity, which is how color performance is quantified. For display technology specifically, performance is measured using the RGB color space model. Gaining knowledge about both of these tools will be critical to choosing a high-quality home cinema projector that also meets your budgetary restrictions (whatever those may be).

For years, Rec. 709 has been the industry standard for color performance. But it's being pushed aside by a new gold standard: DCI-P3. DCI-P3 has not only been embraced by, but is even insisted upon, by even the pickiest of cinema directors and television production companies alike.
But what's the reason for this shift in loyalty? (And why should you follow suit?)
We're here to assure you that DCI-P3 really is the way to go. It covers 25% more space on the color chromaticity gamut than Rec. 709, meaning each and every color envisioned by the director during filming will appear on your screen at home.

From the crystal-clear aqua blue hues of Caribbean waters, to the lushest greens of the Amazon rainforest, to the deepest blacks in the depths of far away universes, you and your family will undergo a truly immersive film experience unparalleled by any other.

There's no denying it: making sure you'll elicit the most enjoyment possible out of your home cinema takes thorough research and consideration. You're dedicating a number of resources, giving up space in your home and sacrificing precious time to make it happen.
Don't you and your family deserve the best color experience possible?
With DCI-P3, that's exactly what you'll be getting. Demand nothing less.

Stop by next week for advice about selecting the best home theater projector for your needs — or get a look ahead with a sneak peek into BenQ's cutting-edge home cinema technology.

What to see the future of home cinema technology now?

Experience the latest in home cinema technology, our HT8050 and HT9050 will be on display inside SnapAV's booth, #3415, at CEDIA San Diego, Sept 7th to the 9th.