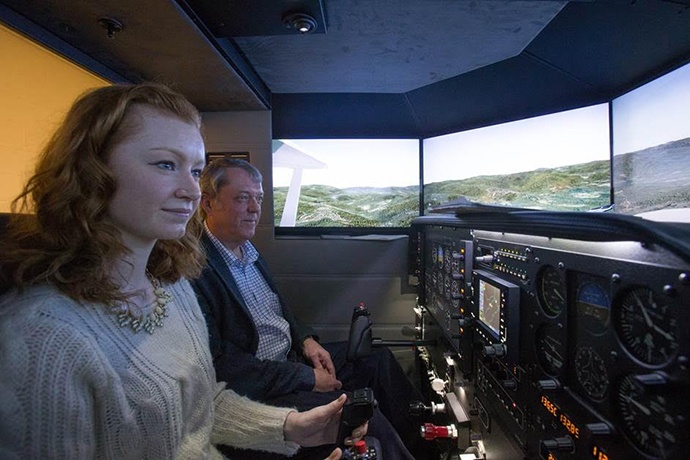 What Factors Contribute to Operating an Effective Simulator?
BenQ Corporation
It can be a real challenge to run a professional, high-quality simulator. From resolution and reliability issues to outdated interfaces that prove difficult to use, there are a number of hurdles that can pop up along the way.

But computer simulations are becoming more important to the ever-expanding training needs of today's workforce at an alarming rate. Now more than ever, understanding how to effectively operate a simulator is a necessity.

So how do you do that, exactly? There are a lot of contributing factors.
IMAGE QUALITY
Determined by both resolution and color performance, image quality is first on the list. There's nothing more distracting than a pixelated, blurry or off-color picture when you're interacting with a screen.

Resolution refers to the number of individual pixels in any given dimension. The greater the number of pixels in one area, the higher the resolution will be, and the better your image will appear. There are dozens of resolution designations, beginning with standard-definition (SD) and ending with ultra-high-definition (UHD).

Brightness should also be taken into consideration as another important factor. Because it's impossible to guarantee absolute darkness in any room, you'll want to have maximum ANSI-lumen output in order to ensure that users will be able to clearly view the on-screen image no matter how bright of an environment they're in.

Color performance is a third concern. Not every projector out there displays images exactly as they're seen in real life, which can be off-putting to users. You'll want to insist upon a projector powered by Texas Instrument Digital Light Processing (or DLP) technology for the most realistic color performance possible.

DLP technology pledges a sharp, long-lasting and accurate picture every time, which is critical for viewing details. If you want your pilots-in-training to be able to distinctly view the instruments in their simulated cockpits, or don't want them squinting at faraway runway numbers on a dark night, opt for a DLP projector.
RELIABILITY
Professional flight simulators have to meet intense demands, so they're constantly in performance mode with few breaks (if any). This state of perpetual operation can have a negative effect on projectors that aren't up to the task — and when your technology fails, you're out of luck. Resulting delays cause a domino effect that can affect your entire operation.

Lampless technology such as a laser projector can greatly reduce the probability of this happening. Traditional lamp projectors leave themselves open to the inevitability of bulbs burning out over time and are expensive to maintain.

It's easy to see why laser technology is becoming the way of the future: not only do they have greatly expanded lifespans, but they also eliminate the annoying step of switching out a lamp every time it dies.
INSTALLATION FLEXIBILITY
Professional equipment can require some unique mounting strategies in order to get angles right. Not to mention, you'll probably be dealing with some sophisticated wiring. So making sure you have a projector that can be installed at any angle is key — which means you'll want to go with a laser projector.

Plus, to keep up with the innovations of technology, it will be necessary to have a projector that offers multiple connections (like Dual HDMI and HDBaseT), as well as an entirely comprehensive and cutting-edge interface.

Don't be vulnerable to the possibility of your technology letting you down. Set yourself up for success and make the right choice with an advanced projector that keeps your needs in mind.

Click here to learn more about cutting edge simulation technology