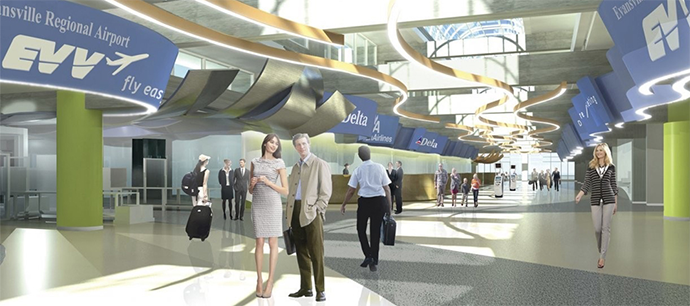 What Factors Contribute to a Well-Run Regional Airport?
BenQ Corporation
In the face of a perpetually increasing number of airplane passengers, there's an undeniable amount of additional stress and strain being put on airports.

With the knowledge that regional airports are the backbone of America's aviation infrastructure, and the recognition that these relatively small facilities are vital to providing millions of Americans with easy access to air travel, you know that it's imperative to make sure your airport is running efficiently and effectively in order to keep passenger frustration to an absolute minimum.
So what factors are key in ensuring that this happens?
First of all, you want to make sure you have efficiently designed and appropriately staffed security stations.

Airport security is a necessary reality of modern travel, and it's increased dramatically over the past 15 years. There are many facets to the security measures airports have in place, and these complications can cause huge delays (it's something that America is constantly battling to fix).

If you're not sufficiently staffed, or if your airport isn't designed with the security process in mind, you'll quickly run into problems. It's important to have an adequate number of entrances and a large enough space to accommodate long lines and big groups of travelers. This becomes especially important around the holidays or popular travel times, such as Thanksgiving weekend.

Make sure you plan ahead for busier days and weeks by having enough security personnel on staff to handle the influx of travelers. When you're already dealing with increased traffic, the last thing you need is a fleet of planes filled with empty seats because passengers are getting stuck in security and missing their flights.
Concessions
You'll also need to provide an ample amount and variety of concessions.

Especially because fewer and fewer airlines are offering complimentary in-flight snacks (we miss the pretzels and Biscoff cookies, too), flyers often rely on the airport itself to provide adequate food options once they make it through the security gate.

By encouraging a wide variety of food vendors and outlets to lease spots at your airport, you can make sure you have a good range of restaurants and snacks for your patrons to choose from. Keep in mind that you'll have people from all walks of life and different nationalities coming through your airport, so you need to cater to all types of dietary restrictions and cultural preferences.

Trust us — by keeping travelers' stomachs happy and restaurant lines short, you'll prevent unnecessary delays and aggravations that will make your job much more difficult in the long run.
Information Delivery
Finally, you need to have an effective and well-planned information delivery system.

Increased airport crowds necessitate construction and refurbishing, leading to complications like temporary reconfigurations of terminals, last-minute gate changes and inevitable delays. To keep frustrations to a minimum for both passengers and airport staff, your airport needs a way to effectively direct travelers through the airport.

Loudspeakers and terminal address systems just won't cut it in the hectic, noisy hubbub of people that are going every which way and talking over each other. What you need is a digital signage system that can keep up with quickly-changing routes, flight times and any other last-minute alterations.

Make the right choice the first time with an established corporation whose technology won't let you down. Put your trust in products that are guaranteed to have the features you need for content development and management, as well as the robust engineering to withstand the long days and rigorous requirements of an airport.

Don't forget to stop by later this week, when we'll explore the technology that will help you run your airport as efficiently as possible.