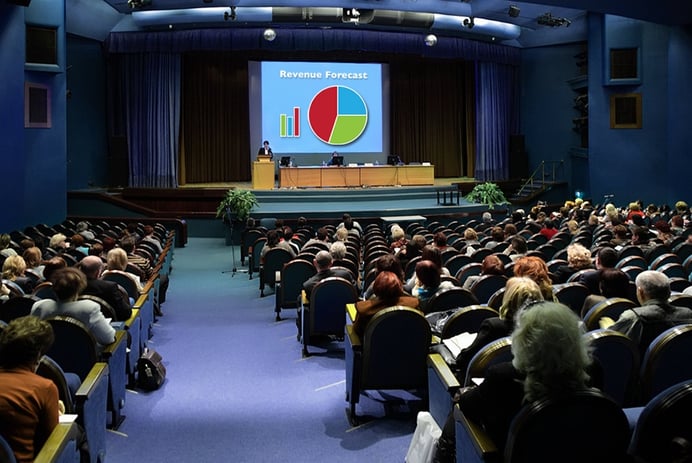 The Key Elements Your Large Venue Needs for Success
BenQ Corporation
In order to deliver the best experience possible, there are a number of things your large venue needs (no matter what kind of business you're running). Namely, it can be broken down into four elements: resolution, brightness, color performance and flexibility.
Resolution
The resolution of your projector is going to be key — this determines the clarity and sharpness of the picture you (and your viewers) will see on the screen. With a higher resolution, images will be more detailed, more crisp and overall more enjoyable for anyone who enters your venue. Projectors with high-definition native resolutions, such as XGA, WXGA or WUXGA are a must. The experts can help you out.
Brightness
Projector brightness is measured in ANSI lumens, which is the projector's light output measured in lumens multiplied by the screen area. This means it works by ratios, so a 1,500-lumen projector will be half as bright as a 3,000-lumen projector. In a very small room you used to be able to get away with something like 500 lumens (or maybe 1,000). Now, the lowest you should go for even portable applications is around 3,000. But with a large venue like an auditorium, house of worship, boardroom, conference room or lecture hall, you'll need something much better — we're talking in the 6,000- to 7,700-lumen range.
Color performance
Colorific color performance means accurate, crisp and long lasting color. And it's something that can only be found in BenQ projectors. Colorific guarantees 100% sRGB color, a standard created by Microsoft and HP more than 20 years ago. It ensures the highest contrast and most optimized color performance out there. Colorific performance further establishes brilliance with the Rec. 709 Standard, which dutifully portrays colors with movie directors' original intents in mind.
Flexibility
With everything else you have to take care of for your venue, the installation process needs to be simple and painless. You need the ease of interchangeable lenses and customizable connectivity options. You need innovative technology like power focus, 360 degree rotation and lens shift. Before you get started, make sure you consult professionals who know what they're doing — they'll be able to point you in the right direction.