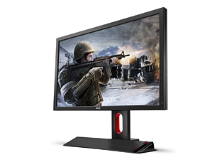 BenQ Sponsors First International ESEA LAN Playoffs
XL2420T Gaming Monitors to Provide Top European and North American Teams With Blazing-Fast Response Times and Advanced Gaming Features
BenQ America Corp. announced that it will serve as the official gaming monitor sponsor for the
E-Sports Entertainment (ESEA) League Season 13 (S13) LAN Playoffs
. Held in Dallas from April 19-21, the event will feature top North American and European Counter-Strike®: Global Offensive (CS:GO), Team Fortress® 2, and Counter-Strike 1.6 gamers who will compete for an $80,000 cash prize purse. Throughout the event, all matches will be played on BenQ's XL2420T gaming monitors, designed for professional and competitive first-person shooter (FPS) gamers by providing lightning-fast response times, razor-sharp clarity, and customized control settings.
"BenQ gaming monitors are specifically designed for highly competitive gaming settings such as ESEA's S13 LAN Playoffs," said Bob Wudeck, Director of Retail and e-Commerce at BenQ America Corp. "With features such as BenQ's Black eQualizer, FPS gamers get total screen visibility while Smart Scaling gives players the freedom to adjust the screen manually to any custom size. We are pleased to be supporting the gaming community with monitors designed by gamers for gamers, and we look forward to a weekend of epic gaming action."
To give gamers a latency-free gaming experience, BenQ's XL2420T gaming monitor features a stunning 120-Hz refresh rate, 2-ms GTG response time, and 12M:1 dynamic contrast ratio while the newer XL2720T and RL2455HM provide even quicker action with blazing-fast 1-ms response times to optimize gaming performance even further. The monitors also feature BenQ's Black eQualizer, allowing gamers to adjust brightness without over-exposing white levels to reveal critical combat details with improved visibility in darkened areas, a Display Mode which enables gamers to switch between nine monitor screen sizes, and Smart Scaling to give players the ability to adjust the screen on-the-fly to virtually any custom size without impacting controller sensitivity.
The BenQ XL2420T monitors used by professional gamers at the ESEA S13 LAN Playoffs will be available for purchase at a highly discounted price. Gaming fans can either order online and obtain refunded shipping costs or purchase the monitors on-site. The special offer monitors will ship starting April 23. For a $20 discount on any new BenQ gaming monitor model, purchases can be made directly from the BenQ site using the promotional code ESEA$20.