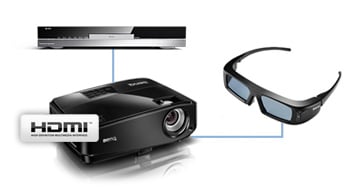 BenQ 5-Series Projectors - Serious 3D Features, Breakthrough Price
The new BenQ 5-series projectors offer 3-D at a new level. Given the pricing (3 models, starting at $349 USD), it's a breakthrough for 3D functionality. Built right into the projector is the HDMI 1.4 interface. It's available on the MS517 (SVGA), the MX518 (XGA), and the MW519 (WXGA). The HDMI 1.4 interface allows you to enjoy razor sharp 3-D content from Blu-ray players, PCs and gaming consoles.

The MW519 also supports the nVidia® 3DTV Play™. So, if you've got a PC or notebook equipped with the Nvidia 3D Vision, just connect it to your new projector and you're ready to go. (check with nVidia for their system requirements here: http://www.nvidia.com/object/3d-vision-main.html)

What exactly is nVidia 3DTV Play?

It allows you to connect your nVidia GeForce GPU-powered PC or Notebook to a supporting projector for HD/3D content. Play 3D games, view 3D photo's, watch Youtube 3D, and more. If you don't already know what types of content are becoming available, you can get a flavor of at http://www.3DVisionlive.com.

You may be wondering, with all the different source options and 3D capability, are these DLP projectors hard to setup? Nope. They're pretty easy to setup – simpy connect your cables and use on-screen menu's accessible from the projector or remote and choose your input.

What if you are true video fan - a real aficionado; can you control and tune the projector to get it just the way you like it? In short: yes.
Projectors Ready Out-of-the-box, Serious Image Setup Features for Pro Users