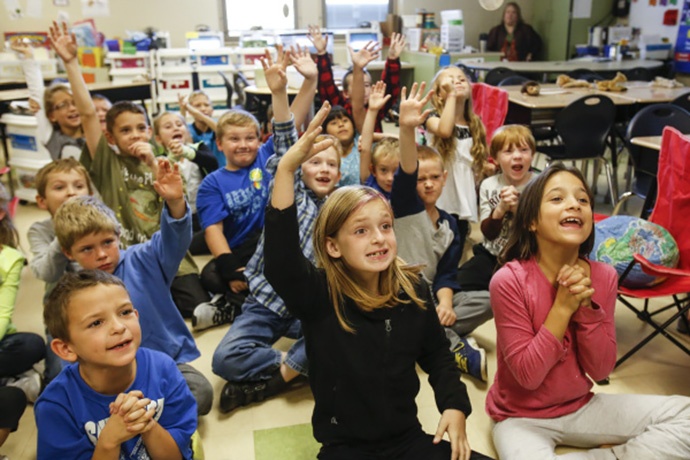 The LX810STD is Your Answer to Delivering Engaging Education on a Limited Budget
BenQ Corporation
While the demands of modern education rise, budgets are drastically waning. As a result, the expectations put on educators are increasing, even as they have much less to work with.

BenQ knows how tough this can be on educators. They also know that if you want to deliver engaging lessons on smaller and smaller budgets at a time when attention spans are getting shorter every day, you'll need technology on your side. That's where the experts come into play.
So what are some of the things you'll need if you want to guarantee success in the classroom?

Superior image quality. Incredible resolution and exceptional color performance offered by state-of-the-art technology will ensure students' eyes stay on the screen.

Installation flexibility. Thoughtful engineering will allow you to overcome the complications of existing infrastructure elements and mount your projector virtually anywhere.

Reliability. Features like instant on and off technology, long-lasting micromirror technology and SmartEco modes will eliminate unexpected presentation delays and keep total cost of ownership (TCO) down by effectively reducing maintenance bills.

You can accomplish all of this with one projector: the LX810STD by BenQ.

The LX810STD comes equipped with everything you need for success in the classroom:

A native XGA resolution of 1024x768 pixels delivers sharp images that never blur or fade. This is paired with BenQ's cutting-edge DLP technology, which guarantees accurate, crisp and long-lasting pictures that will keep students interested and engaged in your lessons.

Short-throw projection performance means you can mount the LX810STD close to the board, greatly minimizing the possibility of shadows crossing your screen and interrupting your lesson. As an added bonus, you won't have to deal with a bright light shining in your eyes while you teach.

A comprehensive interface, including dual HDMI outputs, ensures that the projector will be compatible with the technology that you already have in your classroom. The LX810STD also comes equipped with BenQ's interactive projector technology, which turns lessons into an engaging experience for your students like nothing they've been exposed to before.

Long-lasting BlueCore laser technology offered by the LX810STD delivers 20,000 hours of projector life, which guarantees you a reliable performance at a shockingly low cost. Additionally, the projector's brightness and image quality won't degrade over time, so you can keep students engaged no matter how long your BenQ technology has been in use.

For a budget-friendly technology solution that will simultaneously keep your wallet happy and your students engaged, upgrade your classroom with BenQ. Opt for the LX810STD and guarantee a wowing experience for your students that won't break the bank.