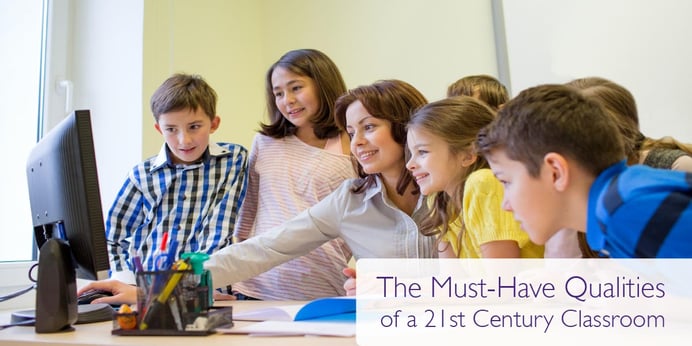 ---
With the ever-increasing advancements in modern technology, the look and feel of the classroom is constantly evolving. To help educators keep up with all the innovations, we compiled a list of the top five characteristics of the 21st century classroom. If your classroom embodies each of these qualities, you can be sure that your students will acquire the skills they need to be successful in the future.
5 Characteristics Of The 21st Century Classroom
Transitioning From Teacher To Facilitator

In the modern day classroom, the teacher is not an authoritarian figure. Instead, the role of the 21st century educator is to guide and encourage students who play a more active part in their education. Teachers have adapted to act as a resource while their students learn by doing themselves. They recognize that each student has his/her own learning styles, and they provide support for the individual's needs.
The Necessity Of Computers
Computers are an essential component of the modern classroom. Having computers, laptops, or tablets in the classroom enables teachers to enhance their lessons and students to master much-needed technology skills. Whether it's used for alphabet sing-along songs, interactive math games, conducting research, utilizing Google docs, or even physical education videos on rainy days, computers make learning more engaging and effective.
Hands-On Learning
Students are more likely to retain knowledge when they're actively involved in a lesson. Students of this generation need to be engaged in what they're learning, and there are many ways to facilitate this. One way is to have an interactive projector in the classroom that engages the senses. Using a projector, students are not only able to watch and listen to material, but with touchscreens they can now physically participate in a lesson as well.
Opportunities For Creative Expression
Providing students with an outlet for their creativity is another component of the 21st century classroom. Creative thinking leads to innovation. There are many tools that foster creativity among students by allowing them to develop websites, coding for games, and even online storybooks. Using inventive tools like these builds critical thinking and problem solving skills.
Fostering Collaborative Environments

Working and learning in groups also encourages the development of critical thinking and exposes students to new ideas. Although many students would like to work alone, learning in isolation can slow down progress, and the chances of working alone in a future career are slim. Incorporate collaborative learning into your classroom by facilitating activities like group projects and debates. This will also improve communication skills.
Integrate each of these characteristics into your classroom and you will create a more contemporary environment where students will thrive. It's very important for educators to stay on top of developments in technology and adapt to the changes they bring to the classroom. We hope that being aware of these five qualities of the 21st century classroom will help you better equip your students for the future.