Even without complaints from your guests, you know that something is missing in your home theater. Make your home theatre experience worth talking about.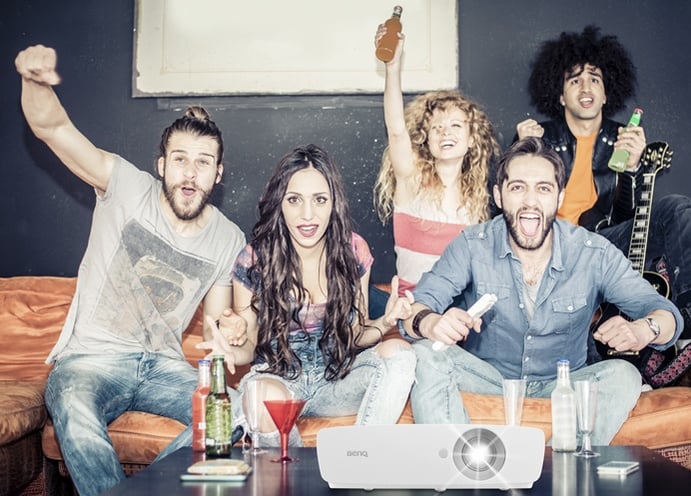 Here's 10 things you're missing to elevate your home theater experience.
#1: Color
Many projectors and television screens dull color because the device is incapable of achieving the vision filmmakers created. Choose a projector with Rec. 709 cinematic color reproduction. You will get incredible, breathtaking images with beautiful detail. It's color as it's meant to be seen. It's ColorificTM.
#2: Screen Size
You don't have to project from one side of the room to the next in order to enjoy the larger-than-life screen size. See movies and your favorite sports contests on a 100 foot screen with your projector rested on a table only 2.5 meters away.
#3: 3-Dimensional Video
Let's face it: re-creating the 3D experience of a digital cinema at home can be difficult. The 2D to 3D conversion offered by BenQ projectors recreates the commercial theater experience right from your own home. With BenQ 3D projection, you're not just watching the movies: you're practically in them.
4K UHD Projectors
Get rid of the blur! 4K UHD projectors display 8.3 million razor-sharp pixels to reduce blur between pixels. Only 4K UHD projectors have four times the resolution of Full HD 1080p, delivering supreme clarity to your video display.
#5: Portability
Unsightly cords and wires can be eye sores. Make your home theater wire-free with the optional BenQ Wireless Full HD Kit. Stream uncompressed Full HD 1080p from your HDTV set-top box, gaming console, blu-ray/DVD player, or AV receiver up to 100 feet away.
#6: THX-Certified
If your projector hasn't received THX® HD Display™ certification — or a professional guarantee that a projector performs at the high-quality of movie theaters — then your projector isn't playing the game with a full deck. The THX-Certified projectors from BenQ aren't just playing with a full deck; they're up with a fully-stacked hand.
#7: Durability
BenQ projectors boast the award-winning Digital Light Processing (DLP) Technology — ensuring timeless, long-lasting video quality year after year that rivals the projectors found in 90 percent of the world's digital cinemas and 100 percent of IMAX theaters.
#8: CinemaMaster™ Video and Audio
Dramatically improve your home movie-viewing experience with CinemaMaster™. Enhanced motion, color and pixels meet optimized audio with CinemaMaster™, ensuring true-to-life skin tones and detailed fast motion with cinema-quality audio from a 10-watt in-unit speaker.
#9: Environmentally-Friendly
If you're environmentally-conscious, there's opportunities to reduce your footprint with BenQ's revolutionary SmartEcoTM technology. Lamp settings adjust to give you vibrant video while also reducing the energy usage from your projector. Save money while being kind to Mother Earth with SmartEco.
#10: Sports Picture Mode
Engage the Sports Picture Mode of your projector displays color precision that exhibits the realistic tones of fresh green grass and team colors. Turn your big-screen projection into a window to the stadium, making each play that much larger than life.