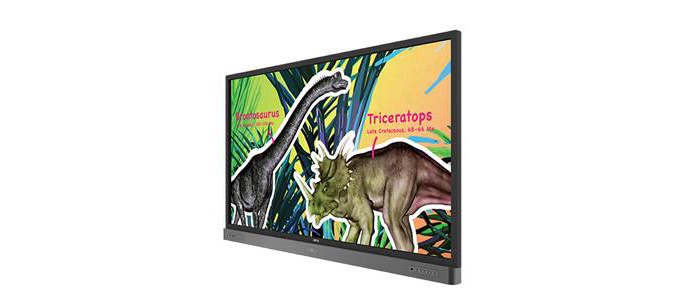 More Cool Things Your Interactive Flat Panel Can Do to Spice Up the Holidays
BenQ Corporation
Fun with Maps
For a fun, interactive and educational exercise, project images of different maps at the front of the room and have students annotate them according to holiday celebrations around the world. Together, you and your students can learn about sunny Christmases in Australia, the eight days of Hanukkah and Christmas piñata traditions in Mexico.

You can even host activities based on different traditions, such as bringing in a piñata for students to break open, so that they can learn about international culture and have a fun time in the process.
Christmas Cash
The calculator function on an Interactive Flat Panel (IFP) can be used by students to calculate how much money they anticipate receiving from various family members for the holidays. For instance, if they think they'll get $20 from Grandma Betsy, $15 from Uncle Bob and $10 from Mom and Dad, it quickly adds up to a total of $45 that they'll be able to spend on anything they want.

Students will have fun taking turns at the board to figure out what the final amount might be and can start making lists of things they might be able to buy when the holidays are over.
Creating Wish Lists
Everyone has something they want for Christmas or Hanukkah (or any other holiday they're celebrating this year). Invite students to come up to the board to write out a wish list and get them excited to open their gifts when the time comes.

With the handwriting recognition technology employed by IFPs, students will be able to see their writing instantly translated into typed text, adding another fun element to the exercise.
Timed Contests
Using the stopwatch function on your IFP, you can make things really interesting by challenging your students to timed holiday contests. You can have multiple stopwatches running simultaneously and time different teams as they compete against one another.

You can host cookie-decorating relays, have students race to finish coloring in holiday-themed scenes or see how quickly they can wrap an empty gift box.

The possibilities are endless, and with the right technology at your fingertips you'll be able to greatly enhance your students' experiences in the classroom.

Don't be a Grinch this Christmas – it's time to get in the educational holiday spirit!

Consider a BenQ Interactive Flat panel to make the holidays (and all year round) more fun the classroom!