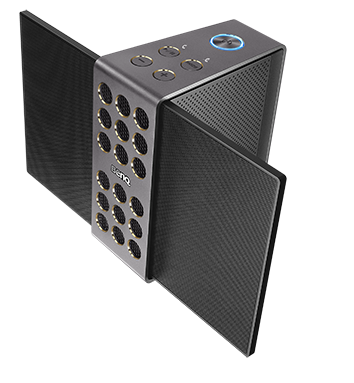 Today marks the first day you can order the BenQ treVolo - the world's first portable (Bluetooth®) electrostatic speaker. And with our free overnight shipping – you can experience a quality of sound that you would normally have to pay thousands of dollars for in a high end electrostatic home speaker system.
So – how does the treVolo sound to discerning ears? Since the unit is not available in retail stores at this time due to limited quantities, we thought we would share some of the feedback from the select group of reviewers around the world. After CES we had a number of audiophiles drop by for a listen, and the first reviews are pretty positive.
Maxim magazine said the speaker "reproduces just the right balance in everything from hip-hop to jazz to bluegrass" and commented that its "unique design adds a level of freshness to the standard square speaker and also makes it easy to stow in a briefcase." PC magazine rated BenQ's first speaker product only ½ star less than the four star editor's choice model. In the review, they noted that the test track of Bill Callahan's "Drover", his ..."baritone vocals are warm and rich, with the perfect amount of treble edge in the high-mids to ensure they remain clear and in the spotlight." Vocal reproduction is one of the key strengths of the speaker.
For jazz and acoustic music fans, the Herald's Digital Life editor noted that the treVolo's "…spacious sound and crisp vocals help bring live acoustic sets to life, even those with a rock feel such as Nirvana's MTV Unplugged in New York, Paul Kelly's Live, May 1992 or Ian Moss' Six Strings. Switch across to a jazz quartet or a symphony orchestra and the treVolo does every instrument justice, delivering a clarity often lost in portable speakers which focus on low-end grunt."
Despite a crowded market of Bluetooth speakers, the treVolo has a unique, distinctive electrostatic sound that we would like you to try. And – for a limited time, you can get free overnight shipping to share your love of music in time for Valentine's day.
We know what the press thinks - but how about your thoughts? Let us know your impression of the speaker - and your favorite artist to hear via this revolutionalry electrostatic speaker.