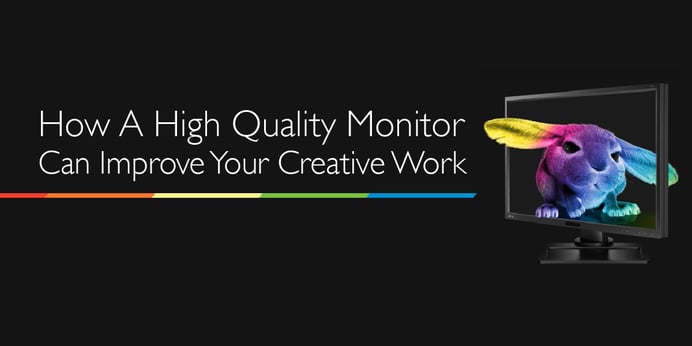 ---
A monitor is a necessary tool for many creative fields, including graphic design, photography, video editing, animation, and CAD/CAM. But did you know that a good monitor can also improve the quality of your work? This article will outline several benefits of high quality monitors that increase productivity, from features that reduce eye fatigue so you can focus longer, to those that ensure you don't have any unexpected results in your finished product.
Four Ways A Monitor Can Enhance Your Work
Reproduce Colors With 100% Accuracy
Having a high quality monitor with superior color accuracy helps designers and editors spot variances between colors better, detect issues before sending a project to production, and reduce unexpected results on print or across different computer screens. Each of these benefits increases their efficiency.

A monitor will provide the best color accuracy possible if it has a 14-bit LUT, covers 99% of the Adobe RGB color space, and has a 100% range on the sRGB. In addition, a monitor should be calibration ready, which will help maintain the highest level of color consistency.
A monitor with IPS display technology will also enhance color accuracy. IPS panels are the best kind of monitors for creative professionals because out of all the types of panels available, they offer the best color rendition, grayscale performance, and viewing angles. Some monitors even come with convenient shading hoods that reduce glare.
Have All The Workspace You Need
The ability for cross-application work that larger monitors provide enables a designer or editor to work faster. It's not uncommon for a designer's screen to be jam-packed with multiple windows open simultaneously. This is because they need to be able to easily access multiple applications at a time.

Dragging and dropping images or copy/pasting text into design software is much more convenient with a screen size that's between 27 and 32 inches. We also recommend choosing a monitor with a resolution of 3840 x 2160 pixels for the highest degree of visible detail and definition available.
And if you need even more workspace than just one monitor can provide, a quality screen with advanced I/O ports can solve that problem too. Monitors with DisplayPort functionality enable you to connect multiple monitors without losing image quality across your displays. Several of BenQ's monitors come with a full range of connectivity including DisplayPort, DVI, and HDMI, so you can have the flexibility to connect various devices and peripherals as well.
Work Longer With Protected Vision
Eye strain greatly affects efficiency. Did you know that some monitors are equipped with eye protect sensors that can automatically detect ambient light levels throughout the day and adjust your monitor's brightness accordingly? Another convenient feature for eye health is ZeroFlicker technology. Conventional LCD screens flicker 200 times per second, which causes strain on the eyes. This technology eliminates flickering at all brightness levels.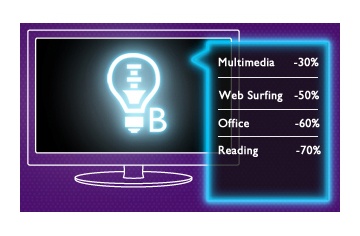 One of the other main causes of eye discomfort while viewing your screen is the blue light spectrum that it emits. BenQ monitors have a convenient Low Blue Light Mode feature that eliminates the problem of irritating blue light. With our BL3200PT monitor, you can instantly activate this feature by simply pushing the OSD controller button on the monitor's stand.
Eliminate Physical Strain
A creative professional will spend the majority of his/her life in front of a computer screen, so monitors that eliminate short term physical strain are crucial to preventing long term physical damage. They also help you work more comfortably. There are many monitors available with ergonomic features. You should have a monitor that can be adjusted in several different ways - height, tilt, pivot, and stroke - to create the ideal workstation for your body type.
As you can see, having a monitor with the right features can improve the quality of your work in many different ways. Here at BenQ, we create monitors that include all of the above features, and more. Check out our complete selection of Creative Class Monitors here. Providing creatives with the right tools to work efficiently, comfortably, and convey their message accurately is necessary to produce excellent work.