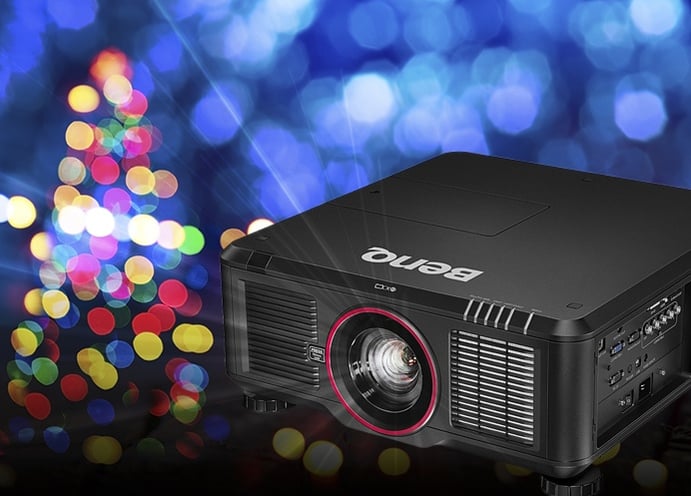 Decorating with Projectors for the Holidays
Unless you're this guy, you've probably started thinking about ways to make your business festive. The right decorations cheer up any office and bring more traffic to shopping areas. However, while the more creative minds among us have no trouble whipping up a plan to turn their work area into a winter wonderland, two drawbacks surface: intricate displays are time-consuming, and they can feel like a waste of resources if the materials you use can't be salvaged or repurposed.
The new projector you've been eyeing might actually solve both problems. Consider the following reasons why a projected holiday display might be just the décor you need this season:
Movement is eye catching
If you're preparing to spruce up a storefront, moving parts are a fun idea, but they can also be a hassle you don't have the time to deal with it. A projector, meanwhile, can be programmed to display whatever moving images you like, unconstrained by annoying restrictions like visible wires or the laws of physics.
You can also change the image displayed as often as you like, giving your front office or store entrance a new look every day. This can be a major mood lifter in environments where the days blur together as employees start feeling the stress of all their seasonal responsibilities outside of work.
What Projector do I need?
For this idea to work to grand effect, you must know you've got the right equipment. That means looking for specs like a brightness setting higher than 7000 lumens — important if you're planning to put your projector in an area that's already bright. Make sure your desired model can project from any angle once it's mounted, so if you want to throw up a ceiling mural one day and lay down a transforming dance floor the next, you can. True color rendering is also key, as well as a high contrast ratio. 50000:1 is the bare minimum you want to look for; the potential for wow factor really kicks in at 100000:1.
Reliable Models are Built to run 24/7
If this is a purchase intended for heavy long-term use, a laser projector is a good choice, as it will save you the trouble of periodic lamp changes. HDMI Control allows you to operate the projector from any compatible device, making that another plus to look for. Look for HDBaseT connectivity to maximizes convenience by allowing you to run audio, visual and control across one cable. Lastly, you'll want to look for a projector which is compatible with multiple optional lenses if you're planning any displays that will require different projecting distances.