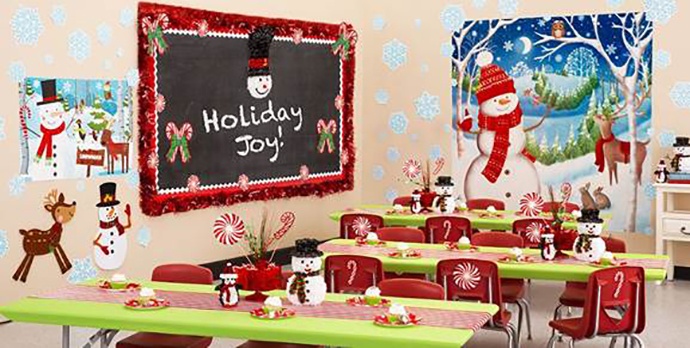 Fun Holiday Activities for the Classroom
BenQ Corporation
Whether or not we're ready for it, the holiday season is upon us. (Every year it sneaks up even faster than the year before).

With winter break just around the corner and the promise of days or weeks free from school's grip, students will be anxious for some much-needed time away from their studies. They're ready to wind down and relax, and maybe have some fun before the end of the year.

Which makes your job as an educator much more difficult.

We know you want your students to enjoy their last stretch of school before break and let them have some fun, but keeping them engaged and making sure they're still getting in an education can be a serious challenge.

So we're going to help you out with a list of 5 fun holiday activities that can help you simultaneously do both.
Holiday Drawing Contest
Get your students in the Christmas spirit by challenging them to come to the front of the room and create holiday-themed drawings like a sleigh, a Christmas tree or a colorful ornament. Let the class be the judge, and reward the winner with a piece of chocolate or some candy to add an extra bit of fun to the exercise.

In order to have several students drawing at once and allow the entire class to see what's going on, consider using an Interactive Flat Panel (IFP) display with split-screen capabilities and Multi-Touch interactive technology.
Holiday Potluck
Have each student bring a dish in and explain to the class how they made it. Students can exchange recipes, and you can suggest holiday-themed food to get them in the Christmas (or Hanukkah) spirit. Not only will you increase their confidence, but you'll also be able to enjoy some scrumptious treats with your students. (And who doesn't enjoy that?)
Ornament Creations
For a fun way to get in the holiday spirit, host an ornament-making session for your classes. Students will have fun getting creative with cotton ball snowflakes, painted Santa Clauses and construction paper Christmas trees. You can set up a tree in the classroom for them to decorate, or let them take the ornaments home for their parents to enjoy.
Stocking Decorations
With felt, cotton balls and a little glitter glue magic, your students can create personalized stockings to hang up in the classroom. Not only will they have fun getting creative with the decorating process, but you'll also end up with a variety of unique stocking wall hangings to spice up your classroom for the holiday season.

You can even fill each stocking with candy or Christmas-themed pencils and erasers after school one day to surprise your students the next morning when they come in.
Holiday Cards
There's nothing like a thoughtful homemade card to celebrate the holiday season. All you need is some colored construction paper, markers and some fun holiday-themed stickers to set up a station for your students to create some festive cards from scratch. They'll love the opportunity to make cards for classmates, friends and family members.
Cookie Decorating
Bring in some plain sugar cookies or gingerbread men, set up icing and sprinkle stations around the room and invite your students to decorate some sugary treats. They'll enjoy the opportunity to get creative, and as an added bonus, they can eat the cookies after they're done decorating.

Tune in this Thursday to learn about even more fun your IFP can bring!