Take advantage of the dynamite deals on BenQ's top performing projectors – while supplies last! Contact your BenQ Sales Representative to learn more today.
Super Rebates on W1070 & W1500
With BenQ's W1070 and W1500 home theater projectors, the big game's larger-than-life action is within reach. The 3D-ready, 1080P projectors are now available at a super value!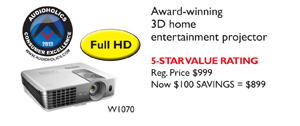 Award-winning 3D home entertainment projector
5-Star Value Rating
W1070
Reg. Price $999
Now $100 SAVINGS = $899
Watch 3D in your media room or anywhere in your house or yard – wirelessly!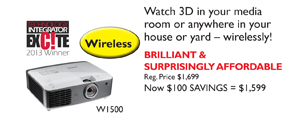 Brilliant & surprisingly affordable
W1500
Reg. Price $1,699
Now $100 SAVINGS = $1,599
Versatile MS616ST at an outstanding value
BenQ's MS616ST is a 3D SVGA projector that's flexible enough for just about any setting – from high impact presentations and data-rich spreadsheets to dynamic movies and fast action video games.

>> 2500 ANSI lumen high brightness
>> 13000:1 high contrast ratio
>> SmartEco™ Lamp Saving Technology
MS616ST
Reg. Price $469
Now $100 SAVINGS = $369