eSports Athletes Get First Look at New LED Monitor Innovation That Eliminates Flicker Issues for Longer, More Comfortable Gaming Sessions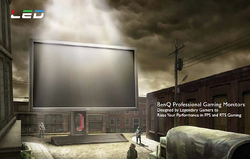 BenQ America Corp., an internationally renowned provider of digital lifestyle innovations, announced on June 27th that as the official gaming sponsor of Major League Gaming (MLG), it will be unveiling its new ZeroFlicker™ Technology at the 2013 MLG Spring Championship held in Anaheim, Calif., June 28-30. Designed with gamers in mind, the new technology is engineered to eliminate traditional LED flicker issues in monitors, supporting eSports enthusiasts in longer gaming sessions by providing more comfort during competitive play.
ZeroFlicker will be available on BenQ's new XL2420TE monitor in July before being gradually incorporated into all BenQ gaming monitors. ZeroFlicker Technology provides a new direct lighting system that enables gamers to practice during longer periods thanks to improved LED comfort. As a result, eSports athletes and amateur gamers alike are able to experience fast, flicker-free gaming on devices that are built specifically for the requirements of today's competitive gaming situations where speed, comfort, and control are paramount to success.