Simplicity and purity - not two words that you normally hear applied to a computer monitor.
How about style?
Or how about a white monitor?
Or how about Mac compatible monitor?
You don't hear these terms often applied to a computer monitor and yet they accurately describe the new BenQ VW30 Series computer monitors.
Let's talk about simplicity and purity.
What do these terms mean when you're talking about a computer monitor?
In the case of the new VW30 Series monitors, they are meant to address the "no dyes", "no printing", bright, white finish. Not only is it eco-friendly, it looks great! It looks great in a professional office setting, in a doctor's office, in a mall kiosk – in nearly any professional environment or right on your desktop attached to your Mac.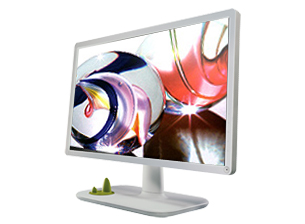 If you are an interior designer, these new white monitors will be a great addition to your design portfolio. In addition to the white finish, the asymmetrical base, sometimes referred to as an offset pedestal, is an elegant departure from the norm. Not only adding a touch of style but also adding a bit of functionality to a normally unusable part of the workspace.
Seriously. Show me another monitor that has a place to keep small items like paper clips or comes equipped with a small stand to hold your iPhone or other smartphone.
One of the features that all the articles about this monitor highlight is sometimes referred to as "Mac compatible". Now some of you may be asking, "Aren't all monitors Mac compatible?"
The answer is, at some level, sure… All monitors are compatible with both PCs and Macs. Most, however, are optimized for a standard set of color spaces, which have conveniently left out the Mac color space.
The feature that makes these white monitors more compatible with Macs than other monitors is a special M–book mode. The whole reason for the MacBook mode is so that when you connect a VW30 series monitor as a second monitor to your MacBook, the image on your monitor and the image on your MacBook will have the same color.