BenQ 5-Series Projectors - Serious 3D Features, Breakthrough Price
The new BenQ 5-series projectors offer 3-D at a new level. Given the pricing (3 models, starting at $349 USD), it's a breakthrough for 3D functionality. Built right into the projector is the HDMI 1.4 interface. It's available on the MS517 (SVGA), the MX518 (XGA), and the MW519 (WXGA). The HDMI 1.4 interface allows you to enjoy razor sharp 3-D content from Blu-ray players, PCs and gaming consoles.

The MW519 also supports the nVidia® 3DTV Play™. So, if you've got a PC or notebook equipped with the Nvidia 3D Vision, just connect it to your new projector and you're ready to go. (check with nVidia for their system requirements here: http://www.nvidia.com/object/3d-vision-main.html)

What exactly is nVidia 3DTV Play?

It allows you to connect your nVidia GeForce GPU-powered PC or Notebook to a supporting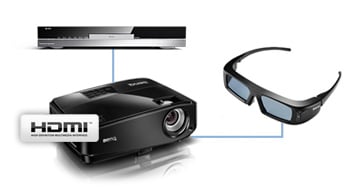 projector for HD/3D content. Play 3D games, view 3D photo's, watch Youtube 3D, and more. If you don't already know what types of content are becoming available, you can get a flavor of at http://www.3DVisionlive.com.

You may be wondering, with all the different source options and 3D capability, are these DLP projectors hard to setup? Nope. They're pretty easy to setup – simpy connect your cables and use on-screen menu's accessible from the projector or remote and choose your input.

What if you are true video fan - a real aficionado; can you control and tune the projector to get it just the way you like it? In short: yes.
Projectors Ready Out-of-the-box, Serious Image Setup Features for Pro Users

We know that not every room is the same and not every piece of content is the same. To complicate matters, the same piece of content on a different medium and played off of a different source produces totally different signals to the projector. That's why we offer a set of fine-tuning controls that allow you set your image exactly for the content source and the kind of content you're playing matched to the room that you're showing it in.

So let's talk a little bit about optimizing the image for your environment. The first step is to select your picture mode. The 5-series projectors offer four preset picture modes and two user modes. Here are the picture modes:

1. Dynamic mode: Maximizes the brightness of the projected image. This mode is
suitable for environments where extra-high brightness is required, such as using the projector in well lit rooms.
2. Presentation mode (Default): Is designed for presentations. The brightness is
emphasized in this mode.
3. sRGB mode: Maximizes the purity of RGB colors to provide true-to-life images
regardless of brightness setting. It is most suitable for viewing photos taken with an sRGB compatible and properly calibrated camera, and for viewing PC graphic and drawing applications such as AutoCAD.
4. Cinema mode: Is appropriate for playing digital movies, DVD's, Blu-ray, video clips from digital cameras or DVs through the PC input for best viewing in a darkened environment.
5. User 1/User 2 mode: Recalls User settings, customized from current
available picture modes.

If you're using your projector in a room with a lot of ambient lighting, daylight, or in a portable application, then selecting the picture mode is probably all you need to do. (Note that in a portable application there is also a "wall color" setting that allows you to select whether the wall or surface that you're using for a screen is not white. The setting options are light yellow, pink, blue, light green or a blackboard. )

The second step, once you have selected the picture mode, is to see whether you need to do any fine tuning of the image quality. This is really a matter of preference. You get a wide range of fine-tuning options so you can set the projector exactly the way you like it. Most of the time, once you pick the picture mode, you're good to go. However, if you really like to tinker - you get plenty of choices. You can adjust brightness, contrast, color, tint, sharpness, and select whether Brilliant Color is on or off. If Brilliant Color is on, you'll have additional option to set color temperature. Color temperature refers to varying degrees of white and the settings available are cool (a more blueish white), normal, and warm (a little reddish white). Please note some of the tuning in this paragraph may impact you lamp life. Consult the BenQ User's manual available in the downloads (button below) for more details.


If you have a permanent or professional installation with controlled and consistent lighting levels such as a home theater, boardroom or lecture hall you may want to consider the third step and that is 3D Color Management. Color management is a professional level activity and something you need to consider only if your projector is being used in professional setting or you are a true aficionado. Most people and applications will never need it, but it's good to know that these pro-grade features are available in these projectors if you ever want them. You'll need some extra equipment such as a colorimeter and a set of reference sources to measure your color reproduction. Check your local projector supplier or online for these tools. This level of tuning is beyond the scope of this blog, but we wanted you know the features were available if you need them. The proejctors allow you to set the hue, saturation and gain for six colors: red, yellow, green, cyan, blue and magenta.

We hope this gives you a little flavor of some of the extraordinary features and exceptional attention to detail that we put into the 5-series projectors.