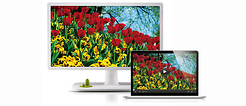 With the release of its all-white Mac® compatible monitors, BenQ has changed the game. For some reason and for the last few years, if you wanted to buy a computer monitor you could have any color you wanted as long as it was black. Credit to Henry Ford for that line. If you owned a Mac computer, well, you could be sure you would not find a monitor that would match your computer. Unless it was an Apple® monitor or an iMac® ( which is its' own monitor). If you owned a MacBook® or a MacMini®, the only monitors you could find just sort of clashed with your Mac. And more likely than not, any monitor you could find (again with the exception of an Apple monitor) did not offer any special support for your Mac or it's color space.
Finally, that's changed thanks to BenQ.
A little history on the color of monitors. If you're old enough, you may remember a time when CRT monitors came in a color often referred to as "putty". It matched your cubical color - which is also known as "Blah". When flat screen monitors came out, manufacturers wanted to differentiate and distinguish themselves from the CRTs of yesterday and the world ended up with shiny black monitors. That became the norm. Now there's nothing wrong with black. After all, it goes with just about everything and therefore blends into nearly any décor. We sell lots of monitors and projectors with beautiful, piano-black, high gloss finishes. However, it seems like it's human nature to want a choice when none are available and until now, none were available. Now, you've got a choice again. The choice is so brilliant it's inspired, yet when you see it, it's so obvious you'll wonder why nobody has made a big deal of it sooner.
BenQ has come out with the VW30 Series white monitor and with it, a bit of forward thinking - not only moving into new stylistic realms with a sleek minimalistic design but also with some very forward thinking technical features. It's "simplicity and purity" meets 21st century leading edge technology.
Let's talk about the physical design. The white monitor is a brilliant white. The front has a thin bezel and all the corners are 'curvy'. The base is really unique – it's offset or asymmetrical with subtle curves and rounded edges. (see the picture)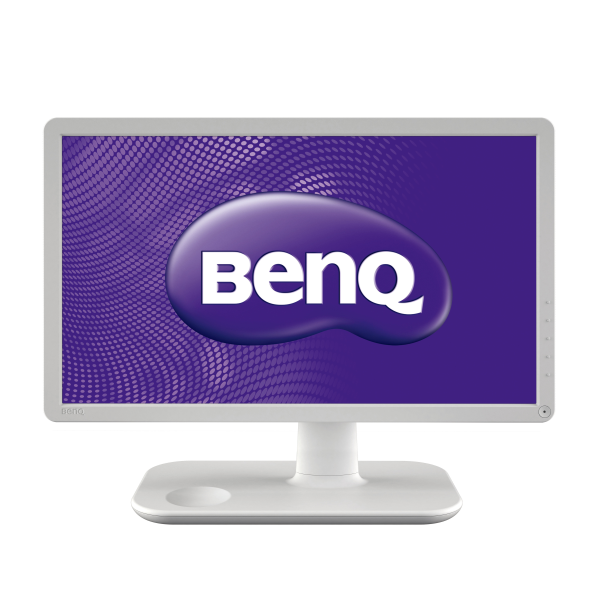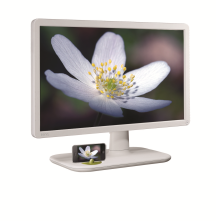 Another neat element is the base is finally more than a base. Due in part to asymmetric design, the base actually becomes a functional part of your workspace. With a little cup to hold "smalls" or a little green scenery element to hold your iPhone, business cards or what have you.
For Mac users there is a new level of compatibility called the M-book mode which faithfully preserves the color quality of a Macbook display. LED backlighting and VA panel technology with 178° viewing angle are the latest available. Add to that full 1080P HD and a contrast ratio of 5000:1 and you can bring any on-screen content to life. That content isn't limited to only computer sources either. What makes the new VW30 series even more interesting is the HDMI® 1.4 high-speed multimedia interface to hook up gaming consoles, Blu-ray® DVD players. D-sub and DVI-D inputs allow other connection options. There is also a headphone jack for listening to multimedia sources which support audio.
Besides M-book Mode - there are Windows® 7 and Vista® modes – these 3 and others are all part of BenQ's Senseye™ Human Vision Technology. That includes a new "Reading Mode" which creates a paper-like look to provide readers a better screen reading experience. The Reading Mode adjusts color, brightness, contrast ratio and sharpness to simulate the paperback book feel that helps reduce eye strain and the irritation typical from long periods in front of a monitor.
The new monitors' eco-mode also offers a significant power savings of up to 44% compared to previous generation monitors. In an ironic twist of the english language, these new all "white" monitors are even "greener" than other monitors. The LED display is mercury free, the case is BFR/PVC free - in fact it's pure white with no coatings; even the logo is etched - and the whole thing comes in packaging printed with eco-friendly ink.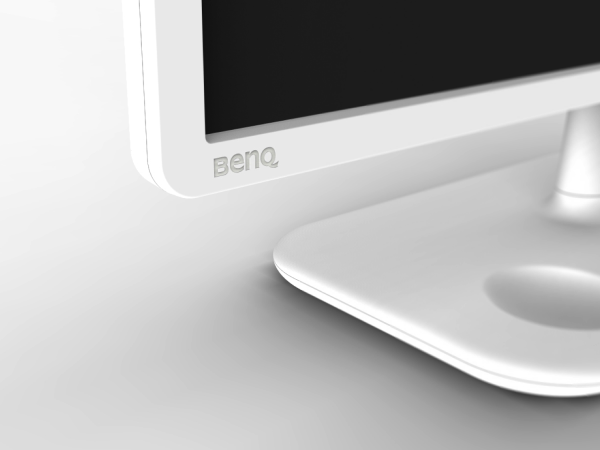 Available in 21.5" (VW2230H) & 24" (VW2430H) screen sizes.