BenQ's new 5-series DLP projectors - the MS517, MX518 and MW519 support several energy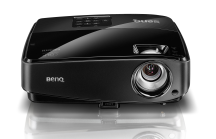 savings advancements. These save you money by reducing energy consuption and extending lamp life at the same time. BenQ is the first DLP® brand to incorporate Philips' ImageCare technology into its projector lamp system. Industry leading 6500 hour lamp life is a result of the extra steps BenQ has taken in developing its own energy saving technology. We've set out to perfect what DLP technology can do to help save energy and costs in the 21st century classroom, conference room or right in your own home.
The Eco Blank mode takes the lamp power setting from 100% down to 30% of normal power. This can be a great advantage during a meeting whenever there is need to stop the presentation and discuss the events of the meeting. In the classroom, this feature is especially useful for helping the teacher control the flow of the lecture - when you want the students attention to be on the screen, run at full power mode. As a teacher, if you need to lecture or conduct other classroom activities, you can use the eco-blank mode to dim the projector and draw the attention of the students back to you.
How many times have you seen a projector been left running after the meeting was over or the DVD ended? It happens. Big waste of energy. Not with the BenQ 5-Series - an extension of the Eco Blank mode is the "No Source Detected" mode. If there is no source detected at the input to the projector for at least three minutes, it will automatically switch to Eco Blank mode, saving 70% of energy when the projector is not in use.
Pre-order a BenQ 5-Series Projector
The SmartEco technology is helping to create a greener environment in everyday usage too. The SmartEco mode is an intelligent power saving mode which not only lowers the power consumption of the lamp and at the same time adjusts and enhances the details and darker sequences delivering the best contrast and brightness performance with the minimum amount of light and power possible.
The final power savings mode of the new in 5-series of projectors from BenQ is standby mode. This drops total consumption to a minimum of 0.5 W when not in use - not only reducing energy consumption but also extending lamp life – saving money on two fronts.
to learn more about SmartEco features...
The whole system also has a filter free sealed design. Less maintenance, less maintnance cost.
So between SmartEco features, long lamp life and the filter free design - your savings can add up.
To learn more about and calculate your Total Cost of Ownership (TCO) with a BenQ 5-Series projector, Visit DLP TCO