BenQ MW712 DLP Projector used by Scout's during Fun, Educational Space Jam 6 Weekend
The MW712, one of BenQ's SmartEco™ projectors, has a prominent role in this weekend's Space Jam 6 in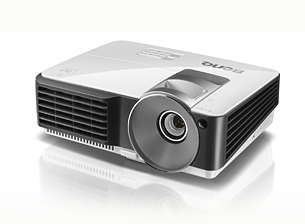 Rantoul, Illinois. The 3200 lumen WXGA projector delivers a brilliant wide screen image in broad range of ambient lighting conditions making it great choice for event like Space Jam or as classroom projector. The full press release from BenQ and Space Jam is captured below.
BenQ's SmartEco™ DLP Projectors Bring 3D to Life at Scouts' Space Jam 6
Breakthrough Projector Technology From BenQ Puts 3D Video and Simulations on the Big Screen for a STEM-Focused Weekend Merit-Badge Earning
IRVINE, Calif. — Aug. 2, 2012 — BenQ America Corp. today announced that it is providing four MW712 SmartEco™ projectors for Space Jam 6, a science, technology, engineering, and math (STEM) focused education event for Boy Scouts, Girl Scouts, and Webelo Scouts. The "Space Jamboree," being held Aug. 3-5 at the Rantoul Airport and Chanute Air Museum in Rantoul, Ill., will use the BenQ projectors for big-screen 3D simulations, presentations, gaming, and video, including a videoconference with the Johnson Space Center just prior to the Curiosity Rover landing on Mars.
"This year Space Jam is going 3D, thanks to the hard work and generosity of companies such as BenQ," said Brian Walker, Cofounder and CTO of Space Jam. "3D is a highly effective teaching tool, particularly when enabled by high-performance green equipment such as the MW712 and its SmartEco technology. The BenQ projectors will allow us to present engaging educational 3D content that is sure to make an impact with our Scouts. This is a huge deal for us, and I see no end to the learning and fun we can have."
Space Jam is put on by Troop 17 of Champaign, Ill., (Scoutmaster Denny Anderson) and by Venture Crew 272 of Fountain County, Ind. (Crew Advisor Brian Walker). More than 1,200 Scouts from 21 states are expected to attend the event, which is the Midwest's largest technology-oriented gathering of Boy Scouts and Girl Scouts. The event will showcase 3D video for the first time on a huge 20-foot screen designed to accommodate hundreds of viewers. BenQ MW712 projectors will provide the bright high-contrast images critical to stunning full-screen presentation, regardless of ambient light levels.
Featuring SmartEco technology, BenQ's MW712 projectors can reduce power consumption by up to 70 percent while providing exceptional brightness. To generate the best image contrast for a given room, the projectors' "SmartEco" mode automatically determines the optimal brightness level based on the input source. A "no source detected" mode automatically lowers brightness to 30 percent when no display has been detected for more than three minutes. With "eco blank" mode, presenters can blank screens when not in use and, in turn, lower light source power consumption by up to 70 percent.
"We're proud that our breakthrough projection technology is taking center stage at Space Jam 6 to educate Scouts on the positive benefits of 3D technology as a learning tool," said Lars Yoder, President at BenQ America Corp. "We build our products on the belief that 'enjoyment matters,' and we find that in educational applications, high-quality visual projection and display can significantly enhance and enrich the collaborative learning experience."