Make your gaming monitor choice a little easier
People are busy. You're busy. You don't have time to go wandering all around a website trying to collect data to decide to which features and specifications you want on your new gaming monitor. We get that.
So, we collected the data on 4 of the most popular BenQ gaming monitors. The ones used by pro gamers and people like you. Whether you need a gaming monitor for PC or game console, you need to see these BenQ monitors. We gathered it all into one place and made it so you can download all the PDF's from one page. Plus there is a 4 page PDF highlighting the XL's & RL series. The collection has all the specs you need to compare them side by side.
Here is the list of monitors in the data collection: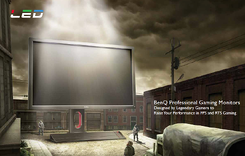 GL2450HM - BenQ GL2450HM LED monitor Official MLG Pro Sponsor
RL2450HT - BenQ StarCraft II/ RTS Gaming Monitor 24"W LED Display with Black eQualizer
XL2420T- BenQ StarCraft II/ FPS Gaming Monitor 120Hz 24"W LED 3D Display
XL2420TX - BenQ Ultimate Gaming Monitor 120Hz, 24"W, 3D-ready LED Display with intergrated 3D emitter
Once you've compared specs just click below and you can grab one for summer... Again, displayed on one page so you can compare.
and remember...ask youself one question... "Why just play when you can conQuer?"
Have fun and hope we'll see you at MLG Championships