The Joybee GP2 is the latest generation of mini projectors from BenQ
Here are the Top Ten or Eleven Coolest features of the little DLP projector dynamo.
The order is the subject of debate but you'll get the idea. Let us know which you think are the coolest.
10. Small and Bright - 200 lumens - A lot of light in small package - about 1.25 lbs (656g) and about 5 inches square - plus all the other features jammed in there.
9. Audio Features - 4 watts worth of integrated audio - Two 2 watt speakers, whatever your source if it's got sound you can hear it.
8. Multimedia Features - Massive amounts of Multimedia Support - Seriously you can connect just about anything to this projector... DVD players, camcorders, memory, phones, tablets, laptops, gaming consoles. check out the picture below...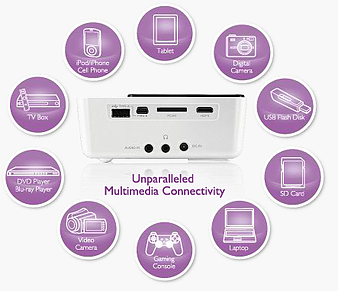 7. Resolution - Ok, for all those multimedia inputs what's the resolution? Will my HD movie look HD? In a word, yes. Joybee GP2 has better than 720p HD native. Specifically, it's 1280 by 800 which is known as WXGA. It will support a range of inputs all the way up to 1600 x 1200 (UXGA).
6. DLP Technology - It uses DLP Technology from Texas Instruments. More than 1 Million little tiny mirrors is just cool. This long time proven technology provides long life and crisp clean images. It's hard to beat DLP. It's the same technology used in most of the big digital cinemas. It's a factor in the brightness and the contrast ratio, which is 2400:1
5. LED - LED technology for the light source. Some big advantages here. Lots of color to work from 3 color LED give you a cinema-like color palette to work with. Over 1 Billion colors in fact! Combined with DLP, the LED - which is a digital technology enhances the contrast - dark is dark, bright is bright. Finally, these things can last up to 30,000 hrs (in Eco mode). Even if you have it on 8 hours a day, the LED may still last something like 10 years!
4. Instant ON/OFF - This is one of BenQ's really nice features they are starting to put more and more units. It's part of the SmartEco / LED. It may not sound like a cool thing until you use a projector that doesn't have it. Think about this way... you mobile phone is probably instant on, right? What about your PC? Which is better?
3. Short Throw - The Joybee GP2 has what's called short throw lens. What that mean is you can put it pretty close to the screen or wall or whatever you want to project on and still have a big image. In the GP2's case, at around 36 inches away it will project a 44 inch image!
2. iPhone / iPod dock - You can dock your iPhone or iPod and get a little charge. Of course you play movies or show photos from you iPhone or iPod. You can even play some tune through the previously mentioned speakers and save power. Just put the projector in standby mode - you can still jam.
1. Joybee GP2 Price - Right now, it's available at great price.
I guess there are 11 cool things about the this little LED mini DLP projector. You can get it with a battery. The battery fits right underneath. Running at 100 lumens on fully charged battery will give you about 3 hours of play time. The battery comes with the projector in the battery bundle