On March 21st, 2012 BenQ America Corp. announced that it is the official gaming monitor sponsor of Major League Gaming (MLG), the world's largest competitive video game league for the 2012 MLG Pro Circuit season.
Kicking off March 23-25 at the 2012 MLG Winter Championships in Columbus, Ohio, top PC gamers from around the world competed using BenQ's RL2450HT monitor, designed specifically for professional gaming and engineered to meet the specific needs of eSports athletes as well as deliver a supreme real-time strategy (RTS) gaming experience. Console games were played on the BenQ GL2450HM monitor.
Now you can score a deal - by clicking on this line - on open box units used by the pros

About the Monitors:
The BenQ RL2450HT was built exclusively for gaming with a 60Hz refresh rate for smooth movement, an LED light engine for great color and low power consumption, and a 2ms GtG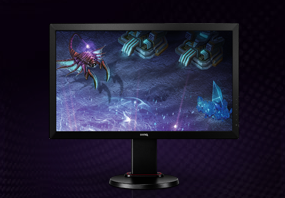 response time with 12 million to 1 contrast ratio. Proprietary BenQ enhancements on the RL Series professional gaming monitors give gamers a competitive edge over players on other gaming monitors. The RL Series RTS Mode maximizes StarCraft II visibility and optimizes color, while its Black eQualizer enables total visibility by allowing gamers to adjust the screen brightness without over-exposing white levels, in turn revealing critical combat details with improved visibility in darkened areas. The RL Series Display Mode allows gamers to interchange between monitor screen sizes, while the Smart Scaling feature gives them the freedom to manually scale the screen to any custom size, from 17 to 24 inches, depending on their preferences. In addition, the unit's adjustable height stand allows for optimal screen positioning.
The 24-inch-wide GL2450HM monitor is an ideal choice for console gaming platforms, featuring brilliant LED backlighting, a dynamic contrast ratio of 12 million to 1, and a 2ms GtG response time that yields high dynamic videos without ghosting or other artifacts.
To snag one of the open box deals or a brand new monitor of your own, check out Tournament Gaming Monitor
The Bottom line: