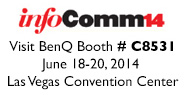 Company Quote:
"BenQ's philosophy centers on providing market-first innovations that matter. This vision has made our company one of the fastest growing display brands in North America and has enabled us to develop exciting new solutions that put smart, collaborative, eye-catching products into the hands of students, professionals, and mainstream consumers. It has also allowed us to introduce several key initiatives including our BEST Education and Integrators' Choice partner programs, further strengthening our support of both the education sector and the professional integration channel. At InfoComm 2014, we look forward to unveiling an unprecedented new lineup of next-gen solutions, including high-brightness Colorific projectors, visually-stunning digital signage panels, interactive technologies, and RevolutionEyes monitors, all delivering a perfect balance of performance, reliability, and design."
— Bob Wudeck, Associate Vice President, Strategy and Business Development at BenQ America Corp.
BenQ Products on Display at InfoComm 2014:
Creators of immersive learning spaces, broader boardroom collaboration, and billion-color visual entertainment, BenQ's InfoComm roster brings together innovations for applications in education, business, home theater, digital signage, and more. Powered by Colorific™ technology to deliver accurate, crisp, and long-lasting image quality, BenQ's newest projectors include professional high-brightness units, interactive devices for more captivating classroom experiences, and a compact portable model for setups on the go. BenQ will also share the benefits of its energy-saving SmartEco™ technology, which can increase lamp life up to an amazing 10,000 hours. For digital signage and commercial applications, BenQ is introducing multiple 4K Ultra HD panels, a host of interactive displays with tablet-like navigation, more engaging slim bar displays, and dual-sided signage. Also on display will be BenQ's first-ever 4K Ultra HD CAD/CAM professional monitor, now featuring BenQ's RevolutionEyes™ technology for exceptional monitor performance.
Changing the Face of Visual Displays: New BenQ Digital Signage Offerings
At InfoComm 2014, BenQ is introducing its first-ever 4K Ultra HD interactive display, the RP840G. The 84-inch, six-touch point, feature-rich display provides multi-PC touch control via USB, EZCast for simple collaboration via WiFi, and an intuitive teaching software bundle for classroom applications. For interactive classrooms, collaborative boardrooms, and intuitive wayfinding solutions, the multitouch technology featured on BenQ's new 70-inch RP700+ interactive flat-panel display provides responsive feedback with accurate positioning to augment interactivity in any digital signage application. As a result, students, presenters, and information-seekers can simply touch the screen for responsive panning, zooming, and scrolling — just like a tablet. For more comfortable viewing, the RP700+ features advanced anti-glare glass to reduce screen reflection and eliminate visual interference, preventing both eye fatigue and stress. The display supports a low blue light mode for further visual protection and increases convenience via multiplatform compatibility with software such as Chrome OS, and has additional connectivity features such as a front panel input/output for added flexibility.
Designed for open public spaces, BenQ's public information displays provide advanced innovations that enliven any targeted or round-the-clock signage installation. Slim and lightweight, the DL550F full HD 55-inch dual-side display is perfect for retail stores, transportation areas, or public venues offering users access to information from both sides of the panel. The dual-sided panels are only one-inch thick and light enough to be hung from a ceiling or placed on a stand. BenQ's new bar displays enable ultra-widescreen signage in either 28-inch (BH280) or 38-inch (BH380) formats for public transit, restaurant menu boards, and more. Featuring 700 nits (28 inch) and 1500 nits (38 inch) of high brightness, 176/176-degree wide viewing angles, in addition to DVI and VGA multiple signal interfaces, the panels can be used in portrait or landscape mode to support kiosk applications. Also on display will be BenQ's super narrow bezel PH550, designed specifically for building seamless and breathtaking videowalls. The 55-inch display includes BenQ's Multiple Display Administrator application to control and monitor multiple displays remotely with ease, and the optional Color Calibration solution that automatically unifies the color profile of each videowall display for easy setup and installation.
Billions of Colors for Vibrant, True-to-Life Images: BenQ Colorific™ Projectors
Leading BenQ's Colorific™ projector portfolio is the high-brightness PU9730. Designed to bring premium brightness to command and control centers, houses of worship, classrooms, and conference room settings, the all-new WUXGA device delivers an incredibly bright 7,000 Colorific lumens compliant to the Rec. 709 color gamut. Installations are extra easy thanks to powered focus, zoom, and lens shifting; lens memory; mechanical shutter capabilities; and the addition of seven optional lenses for more flexibility. Also new to the high-brightness series is the Colorific 6,000-lumen TH963. Featuring an impressive 11,000:1 contrast ratio and full HD 1080p resolution, the professional large-venue projector includes BenQ's Colorific image quality and optional lens flexibility for simpler setups.
Shown for the first time in North America, BenQ's ultra short throw MW853UST projector for the connected education sector brings enhanced interactivity to projection-based classrooms. Using dual screen capabilities, two MW853UST units can easily enlarge the projection area of any learning space allowing up to four participants to simultaneously collaborate on dual wide screens as large as 190 inches. Featuring auto calibration, the device allows teachers and students to interact using up to four PointWrite™ pens or via finger-touch technology for simple hands-on collaboration directly on the screen. Easy to set up and install, the MW853UST features a wall mount plate integrated directly onto the projector, 3D PC and Blu-ray readiness, and double 10W speakers, creating a complete multimedia solution that turns classrooms into collaborative and engaging learning spaces.
To augment collaboration within business settings, the multipurpose MH740 projector provides a crisp 11,000:1 contrast ratio, 4,000 Colorific lumens of brightness, and full HD 1080p resolution. For added convenience, the unit is equipped with integrated 10W speakers and the ability to cast 3D content directly from PCs and Blu-ray devices, allowing presenters to enjoy lifelike experiences without sacrificing setup speed. For IT managers, the MH740's LAN control feature simplifies facility-wide maintenance by allowing easy remote monitoring and control directly from workstations. To lower total cost of ownership, the projector features BenQ's SmartEco™ technology, which automatically adjusts lamp power to deliver up to 3,500 hours of lamp life.
For content everywhere portability, the compact and easy to use Ultra-Lite GP20 projector offers LED projection backed by 700 Colorific lumens, native WXGA resolution, and support for resolutions up to UXGA. With features such as mirroring for devices equipped with Mobile High-definition Link (MHL), the GP20 enables easy notebook PC, cable, console gaming, or smart device connection to transfer small-screen content directly to the projector from any portable device. The GP20 also offers simple wireless streaming from MHL-compatible Roku and Chromecast players, allowing users to enjoy cloud content from popular services such as Netflix, Hulu, Aereo, and more. PC 3D-ready, the GP20 lets users share HD-quality movies, videos, photos, games, and presentations on any wall or video screen, casting up to a 10-foot diagonal image from 10 feet away.
Professional Performance With Increased Visual Comfort: BenQ RevolutionEyes™ Monitors
BenQ's 32-inch 4K Ultra HD BL3201PT wide quad high-definition (WQHD) professional monitor is designed for 3D printing, computer-aided design (CAD), and computer-aided manufacturing (CAM). With an AHVA panel enabling 178-degree horizontal and vertical viewing angles, the unit's 2560x1440 resolution brings 77 percent more working space to users. Displaying graphics at 4K, the eye-care monitor enables higher pixels per inch (ppi) for a sharper, more precise viewing experience. With the monitor's unique CAD/CAM mode, users obtain a special color map for popular CAD programs, which makes small details in wireframes more visible, while the unit's Display Pilot software enables users to change color settings automatically based on specific applications. To further simplify design workflows, the unit's Auto-Pivot function automatically rotates and partitions content when the display is turned from landscape to portrait mode and vice versa. To increase user comfort during long periods of computer use, the BL3201PT also incorporates BenQ's exclusive ZeroFlicker™ technology.
Made specifically for creative professionals such as photographers, graphic designers, color re-touchers, and printers who rely heavily on color accuracy, BenQ's PG2401PT certified color management monitor provides reliable, printing-certified soft-proofing precision at an incredibly affordable price. To facilitate collaboration between professionals, the self-calibrating PG2401PT monitor also covers 100 percent CMYK, 99 percent of the Adobe RGB color space, and is designed to take advantage of today's most popular cloud-based color proofing services such as Adobe's Creative Cloud and PantoneLIVE. To further ensure that on-screen colors visually match off-the-press colors for accurate reproduction, the PG2401PT is FograCert Softproof certified, as well as SWOP & GRACoL certified by the IDEAlliance.
Image Links:
RP840G: www.ingearpr.com/BenQ/BenQ_RP840G.jpg
RP700+: www.ingearpr.com/BenQ/BenQ_RP700+.jpg
DL550F: www.ingearpr.com/BenQ/BenQ_DualSide_Display.jpg
BH280/380: www.ingearpr.com/BenQ/BenQ_BarDisplay.jpg
PH550: www.ingearpr.com/BenQ/BenQ_PH550.jpg
PU9730: www.ingearpr.com/BenQ/BenQ_PU9730.jpg
TH963: www.ingearpr.com/BenQ/BenQ_TH963.jpg
MW853UST: www.ingearpr.com/BenQ/BenQ_MW853UST.jpg
MH740: www.ingearpr.com/BenQ/BenQ_MH740.jpg
GP20: www.ingearpr.com/BenQ/BenQ_Ultra-Lite.jpg
BL3201PT: www.ingearpr.com/BenQ/BenQ_BL3201PT.jpg
PG2401PT: www.ingearpr.com/BenQ/BenQ_PG2401PT.jpg
About BenQ America Corp.
The BenQ digital lifestyle brand stands for "Bringing Enjoyment 'N' Quality to Life," fusing lifestyle with technology, enjoyment with productivity, and aesthetic design with engineering. It is this mantra that has made BenQ the fastest growing projector brand in North America1, the No. 1-selling DLP® projector brand worldwide, and the No. 1 name in short-throw projectors. BenQ America Corp. offers an extensive line of visual display and presentation solutions that incorporate the very latest technologies. The company delivers a broad range of Colorific™ projectors, RevolutionEyes™ monitors, and flat-panel displays for any application and market — education, home, gaming, enterprise, government, house of worship, digital signage, A/V, and IT — with cutting-edge models that lead the industry in performance, reliability, environmental sustainability, and aesthetics. Whether it's interactive digital whiteboards for classrooms, full HD 3D projectors for home theaters, short-throw projectors for boardrooms, interactive flat-panel displays for digital signage, or LED backlit monitors for professional gaming, BenQ continues to defy the limits of digital displays. The company's products are available across North America through leading value-added distributors, resellers, and retailers.
More information is available at www.BenQ.us.
1 Based upon Q4'13 Quarterly Projector Shipment and Forecast Report from PMA Research
About BenQ Corporation
Founded on the corporate vision of "Bringing Enjoyment 'N' Quality to Life," BenQ Corporation is a world-leading human technology and solutions provider aiming to elevate and enrich every aspect of consumers' lives. To realize this vision, the company focuses on the aspects that matter most to people today — lifestyle, business, healthcare, and education — with the hope of providing people with the means to live better, increase efficiency, feel healthier, and enhance learning. Such means include a delightful broad portfolio of people-driven products and embedded technologies spanning digital projectors, monitors, interactive large-format displays, digital cameras and camcorders, mobile computing devices, and lighting solutions. Because it matters.
About BenQ Group
The BenQ Group is a $20+ billion powerhouse comprised of 15+ independent companies operating in over 30 countries across numerous industries with a combined workforce of over 100,000 employees. Each Group member is a recognized leader in its own field, contributing to the BenQ Group's vast resources, broad R&D, and distinct strategic strengths. By leveraging each company's vertical specialization to create true scale across horizontal markets, the BenQ Group controls a highly efficient value chain with the unrivaled ability to deliver critical components and world-class solutions in the following industries: TFT-LCD, green energy, fine chemicals and advanced materials, lighting, IC design, precision components, system integration, branded business, and service. The Group is committed to profitable and sustainable businesses that share its long-standing vision of "Bringing Enjoyment 'N' Quality to Life."
The BenQ Group companies are: BenQ Corporation, AU Optronics Corporation (world's top manufacturer of large-size TFT-LCD panels), Qisda Corporation, Darfon Electronics Corporation, BenQ ESCO Corp., BenQ Materials Corp., BenQ Guru Corp., BenQ Medical Center, BenQ Medical Technology Corp., BriView Co., Ltd., Daxin Materials Corp., Dazzo Technology Corp., Forhouse Corp., Lextar Electronics Corp., and Raydium Semiconductor Corp.
Facebook: https://www.facebook.com/BenQNorthAmerica
LinkedIn: http://linkd.in/kJdsyC
Blog: http://info.BenQ.us/blog
Twitter: http://twitter.com/#!/BenQAmerica
YouTube: http://www.youtube.com/user/ShopBenQ