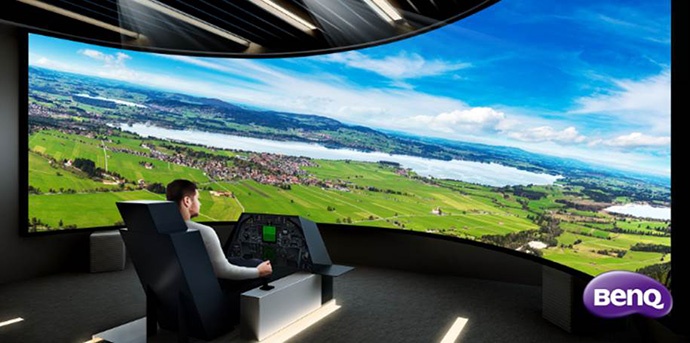 Are You Choosing the Right Display Technology for Your Simulator?
BenQ Corporation
We're more than 15 years into the 21st century, and while hover cars have yet to become a norm on the highways, technology is making leaps and bounds in multiple other aspects.

Simulated experiences are a big part of the technology innovation movement. But whether you're creating a virtual golf simulation in an upscale home, operating a combat simulator at a theme park or training future pilots with flight simulations, running such an enterprise has its challenges.

There are a lot of things that need to go right when you're working with a simulator if you want to deliver a thoroughly incredible experience for your users. But there are also a lot of things that have the potential to go wrong.

Poor image quality can result from a number of different things, but low resolution and problems with color are the two biggest culprits.

When you're considering resolution, don't leave 4K UHD out of the research process. You don't have to be too technologically savvy to know that 3840 x 2160 pixels and a brightness of 5,000 ANSI-lumens are engineered for an exceptional picture.

Poor reliability due to inconsistent performance renders a piece of technology impossible to count on, which makes it difficult for you to prepare and increases the probability of something going wrong.

Glitches are not only annoying to users, but also interrupt the simulation process, making the entire experience much less realistic and resulting in a frustrated patron.

Plus, the more setbacks that pop up, the more you'll have to pay for maintenance to fix the problem, whether it's replacing a lamp or resolving a malfunction. You'll be needlessly wasting precious time and money in the process.

Poorly designed interfaces that are either outdated or difficult to use (or both) cause severely reduced installation flexibility and limit the range of images that the simulation technology can predict. They will ultimately result in an unexpectedly high overall cost due to necessary alterations and updates that will pop up.

The need for high-quality simulations is only growing. For instance, in the face of an overwhelming shortage of pilots, airports are facing a need for simulated flights to educate pilots-in-training. Such dilemmas are contributing to a soaring demand for projectors that are up to the task.

Check in next week as we explore the factors that contribute to operating an effective simulator or learn more about the latest technology here.